83-year-old Red Deer man rappels building to raise money for sick kids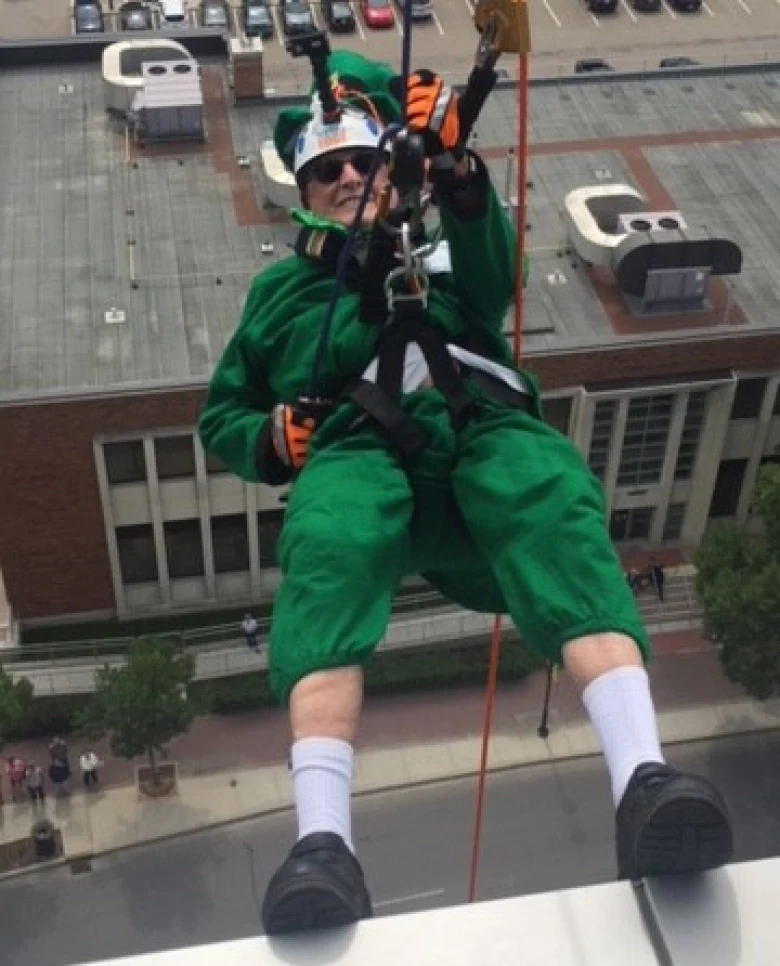 Joe Hittel rappelled a 13-storey building in downtown Red Deer on Saturday to raise money for kids with life-threatening medical conditions.
It took about seven minutes for the 83-year-old to complete the descent down Stantec Executive Place — a feat he accomplished in a leprechaun costume, which he wore to stand out from the group participating in the Make-a-Wish Foundation fundraiser.
Hittel says he enjoyed rappelling the building. (Jennifer Garden)
After receiving a harness, helmet and instructions on how to use the equipment, Hittel was taken to the edge of the roof.
"That was the scary part. But other than that, once I got leaned back and felt the harness, I came down real easy," he told CBC News.
"I just took my time and relaxed and had lots of cheering going on down below."
Hittel said he started raising money for the fundraiser in May, asking businesses for support and hosting a silent auction for the cause. He wanted to raise $14,000 to help grant a wish for a sick child.
He was just short of that goal before climbing to the roof on Saturday.
"And by the time I got down, they had the money for me," Hittel said. "So I went over the $14,000 mark."
'This person needs a wish'
Hittel laughed when asked if he's an adrenaline junky.
Hittel completed the descent in a leprechaun costume. (Jennifer Garden)
"I've never done it before in my life. This just popped in my mind and I said 'This is what I want to do,'" he said.
He recalled a moment that affirmed his goal.
"What gave me extra strength was I was in a restaurant … and there was a family sitting beside me at another table, and their son was in a wheelchair and they were feeding him," he said.
"I thought to myself 'My God, here I'm just going around [getting] donations and this person needs a wish."
After speaking with the family, Hittel said he learned Make-A-Wish gave them a trip to Disneyland in 2007.
Hittel has 14 grandchildren and 14 great grandchildren.
"The grandkids are going to get married and they're going to have kids," he said. "And maybe one of these days somebody might be able to use that wish."