Wildfire near Hinton, Alta., more than doubles in size overnight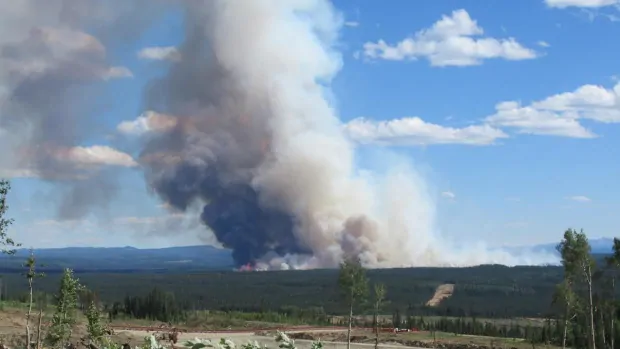 A wildfire burning out of control near Hinton, Alta. has more than doubled in size in less than a day, fire officials said Thursday.
The fire, about 15 kilometres southeast of the town of Hinton, now covers almost 900 hectares, up from the 350 hectares reported Wednesday evening, said wildfire information officer Travis Fairweather.
"This morning there's a bit of an inversion which makes it difficult to get a more recent size assessment, so it could be slightly larger than that," Fairweather said.
An inversion is when a lot of smoke at the head of the fire creates difficult flying conditions for those assessing the fire, he explained.
Crews worked through night
Smoky conditions also make it difficult to use air craft to fight the fire, Fairweather said.
Air tankers have been dropping retardant on the flames and helicopters have been dropping buckets of water, he said.
Twenty-five firefighters are using heavy equipment to try to contain the wildfire.
"Our crews worked through the night and they were able to build over eight kilometres of guard around the fire using bulldozers on the north end and some south as well," Fairweather said.
If there's any movement on the fire, it's expected to head either east or west depending on the wind, he said. The fire is not expected to move toward any communities.
Fire danger in the area is very high, due to high winds and a lack of precipitation.
The cause of the fire is under investigation.