Pimicikamak Cree Nation elders flown to hospital after tent collapses during ceremony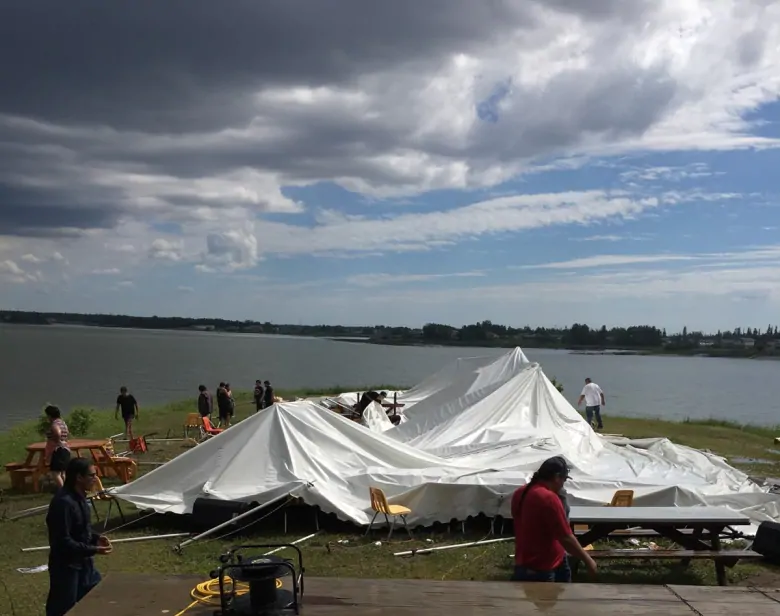 What was supposed to be a happy community event took a terrible turn Tuesday in Pimicikamak Cree Nation, Man., after a big tent buckled under intense winds, trapping and injuring several elders.
"I cried for the elders," said Shirley Robinson, vice-chief of Pimicikamak, also known as Cross Lake. "The way I found them, the way we saw them, the way everyone was running around, you know, it was scary."
She estimated more than 100 people from the northern Manitoba community were gathered under a massive outdoor tent for the band's general assembly Tuesday afternoon. Robinson said the event was supposed to be an opportunity to connect with the community and feast.
But a slow drizzle turned into a downpour that was followed by a strong gust of wind.
"The next thing you know, boom, this sudden noise," she said. "The tent was shaking."
Volunteers clean up after a storm pulled this big tent down on several people in Pimicikamak Cree Nation Tuesday night. (Submitted by April Ross)
Some people ran into the community hall next door, but Robinson said she and 20-30 others were trapped after the wind pulled the tent down.
"I heard a man yell at me, 'Shirley, move!' I guess there was this bar, the bar of the tent, that was ready to collapse on my head and back. I made a sudden gesture, a quick movement and it just went dark," she said. "I was amongst the rubble."
Robinson said she saw two elders lying on the ground beneath the tent tarp, one on each side of her.
"Everybody was traumatized. I was."
Robinson says three elders were flown to hospital in Thompson. (Submitted by April Ross)
Some men jumped into action and began pulling people out, she said.
Seven or eight elders were injured, including three who were medevaced to hospital in Thompson on Tuesday night, Robinson said.
April Ross also witnessed the chaos and took photos of the aftermath of the storm, which she said blew in between 3:30 and 4 p.m. She and her father, an 87-year-old elder in the community, were trapped under the tent.
"People were just running," said the mother of three. "It just happened so fast and we were just trying to get out."
Neither she or her father were injured, although Ross says a metal tent post struck and injured her friend's leg.
"Unbelievable how it happened, how the tent went down so fast," she said.
The wicked winds tore shingles off a few houses and blew a trampoline from a yard in the community, said Ross.
People at Pimicikamak Cree Nation set up a tent again after it collapsed, trapping 20-30 people. (Submitted by April Ross)
As of Wednesday morning, there hadn't been any damage reported to Environment Canada, said warning preparedness meteorologist Natalie Hasell.
Weather warnings were in effect for western Manitoba on Tuesday night, but not for northern Manitoba.
Winnipeg got 16 millimetres of rain, along with lightning. Brandon saw 90 kilometre per hour winds and 36 millimetres of rain. Meanwhile, Balmoral and surrounding areas in the Interlake got about 50 millimetres of rain.
Hasell said the weather agency staff have heard reports of landspouts or possibly even a tornado touching down near Cross Lake but have been unable to confirm those accounts.
Shirley Robinson says she is still shaken from the tent collapse. (Jaison Empson/CBC)
Robinson didn't see either but said some in the community reported seeing one or two funnel clouds or "little twisters" not far from the site of the ceremony some time after the incident.
She said the elders are recovering and have been discharged from hospital.
As scary as the experience was, Robinson is grateful things weren't worse.
"Someone was watching over us and I am grateful and thankful that there was no fatalities that happened, and I am thankful that the elders that were medevaced out got discharged and are at home now getting looked after. Everyone is coming together again from this sudden impact."
More from CBC Manitoba: