Pig carcasses spill onto highway causing traffic jam in Lloydminster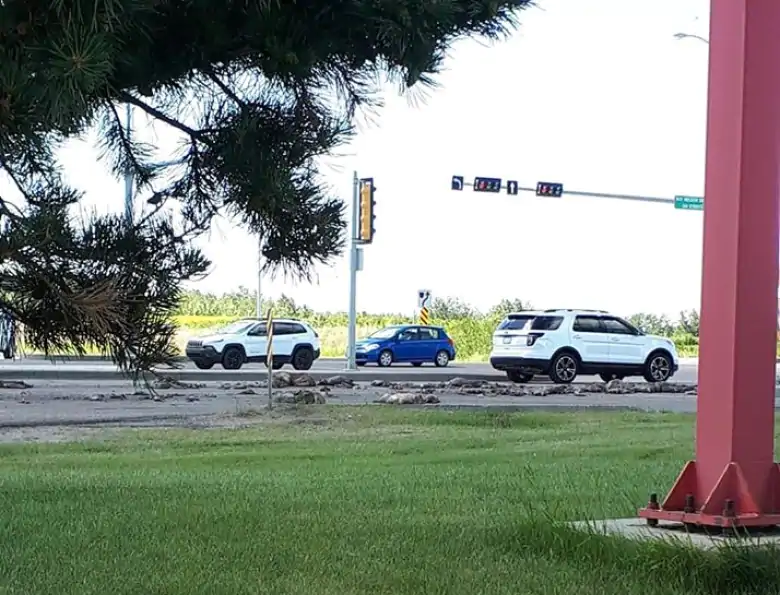 Lloydminster drivers likely smelled the cause of a traffic jam on Highway 16 long before they saw it.
Pig carcasses spilled out of a semi-trailer travelling west on the highway, near 80th Avenue, at about 11:30 a.m. Wednesday, say RCMP.
"This is the first time I've heard of pigs spilling onto the highway, but with the assistance of the city and our city bylaw, we got it cleaned up very quickly and traffic is back to normal," Sgt. Sarah Knelsen told CBC News.
The pigs, which were already dead, fell from the front of one of the truck's two trailers after the driver stopped at a traffic light, Knelsen said.
"Because he braked, the pigs shifted, causing the front of that trailer to break open," she said.
RCMP were not expecting to lay any charges, Knelsen said.
People shared pictures of the pig spill on Facebook. (Al Etherington/Facebook)
Gerhard Bubbel, who manages a Peavey Mart hardware store just north of the highway, said customers first alerted him to the accident. They came into the store with their hands over their mouths, complaining of nausea, he said.
Bubbel said city crews used street sweepers and loader vehicles to clean up dozens of pigs from the road.
The stench, like "death warmed over," lingered long after the pigs had been removed, he said.
"There are things that you see and you smell that you can't unsee or unsmell, that's for sure," he said.
"I'm not going out for ribs at Montana's tonight."