Old Lady Clippers: Alberta seniors keep bud beautiful at licensed cannabis producer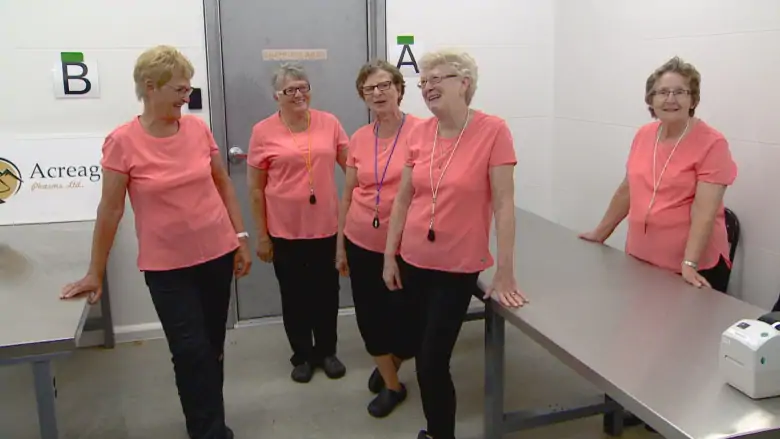 Under a towering canopy of cannabis plants, five silver-haired women peer through the foliage, carefully snipping away any brown or tattered leaves.
They call themselves the Old Lady Clippers. Up to three times a week, the seniors head down a gravel road near Peers, Alta., to Acreage Pharms, the province's second-largest licensed producer of medicinal cannabis.
There, they zip white protective suits over their matching pink T-shirts, slip on blue caps, step into Crocs and get to work.
Their job is to keep the plants healthy and make the bud look beautiful.
Linda Moman never thought she'd be spending her golden years elbow-deep in the green.
"My son says, 'I'm never eating your brownies again,' and my daughter-in-law calls me a pot farmer. It's all in fun," she said.
"When you're retired, the four walls in your house get boring after a while and this is something to do. I really enjoy working with young people and it's a sense of community here."
From left: Marion Huggins, Irene Sommer, Linda Moman, Georgina Shelton and Betty-Lou Gray call themselves the Old Lady Clippers. They say their casual jobs at Acreage Pharms keeps them active and they enjoy the camaraderie. (CBC/Scott Neufeld)
'Ambassadors' for the community
The women — all between the ages of 67 and 78 years old — learned about the facility when Acreage Pharms co-founder Brenda Dixon stopped in on a Monday night potluck at Silver Threads, the seniors' group in town.
Acreage Pharms was founded in 2013, but received its licence to grow in April 2017.
It currently produces about 600 kilograms of two different strains of dry cannabis for the medicinal industry each year.
An expansion was recently completed and the facility expects to soon ramp up production to another 2,800 kilograms a year.
When a third 90,000 square-foot expansion is completed in November, the facility is expected to produce a further 10,000 kilograms a year. It is currently cultivating 23 more strains of cannabis, including high CBD kush, indica, sativa and hybrids.
The facility employs 40 people, but Dixon expects to have a staff of 100 once everything is up and running. She says she considers the Old Lady Clippers "ambassadors" for the industry and for Peers, an agricultural community with a population of 98.
"In a location like this, one of the challenges we were concerned about was how do you get well-qualified people who want to work this far away from an urban area," she said.
"We've been successful in attracting very qualified people, but these ladies are in themselves very highly qualified in another sort of non-traditional sense. They know the land, they know the people, they know what they're doing. And they've got a work ethic that comes from the farming background."
Trevor Dixon, CEO of Acreage Pharms, holds a bag containing five kilograms of medicinal cannabis. (CBC/Scott Neufeld)
'We're very proud'
Acreage Pharms CEO Trevor Dixon says he expects his facility will serve the recreational cannabis industry once it's legalized in October. But he's most passionate about the medicinal aspects of cannabis.
One of the founders of his company was his late wife, Lori. She was diagnosed with Stage 4 pancreatic cancer in September 2015.
She was treated with cannabis, which Dixon said had good results. She eventually started chemotherapy and couldn't use cannabis at that point. She died in December of that year.
"She dedicated her life to science," Dixon said. "That just solidified all my passion. I know what I'm doing for the rest of my life."
Dixon, who was born and raised in the Peers area, says it's a community where everyone helps each other out. Hiring the Old Lady Clippers was a way of getting the community involved in his business, he said.
"We take great pride in the people who surround us in this neighbourhood. I enjoy them working here," Dixon said.
We take great pride in the people who surround us in this neighbourhood.– Trevor Dixon, Acreage Pharms CEO
Clipper Marion Huggins says the group sometimes works up to 10 hours a day, but it's not a physically-demanding job. The women can chat and often have lunch provided for them.
Getting involved in the cannabis industry has been exciting for clipper Betty-Lou Gray, a retiree who used to work at a bank.
She says working as one of the Old Lady Clippers has given her a renewed sense of purpose, and she looks forward to coming to work because of the camaraderie.
"Retirement isn't all it's cracked up to be. You get very lonesome," Gray said.
"I was very happy to come [get] involved because … the facility which means a lot to the people in Peers, and it's done a lot to make us all feel really important. So we're very proud."
Linda Moman, left, and Marion Huggins tend to the cannabis plants at Acreage Pharms, near Peers, Alta. (CBC/Scott Neufeld)