Notley, Kenney raise issues, throw mud during byelection stops in Fort McMurray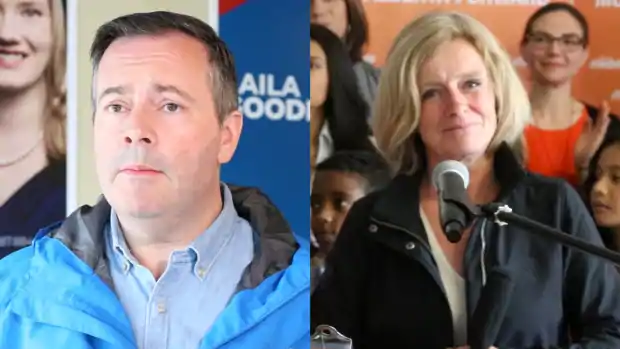 Halfway through a byelection fight, Alberta's political leaders parachuted into Fort McMurray and went to head-to-head over gay-straight alliances and updates to the farm safety act.
Both Premier Rachel Notley and United Conservative Party leader Jason Kenney are in Fort McMurray campaigning for their candidates in the upcoming byelection.
NDP candidate Jane Stroud and the UCP's Laila Goodridge are vying to fill the seat vacated by former Wildrose leader Brian Jean. The byelection will be held on July 12.
Provincial issues and some campaign-style rhetoric crept into the leaders' visits.
Notley picked up the attack on Kenney that was started Wednesday by Education Minister David Eggen after a Medicine Hat judge dismissed a bid to delay legislation that stopped schools from telling parents when their child joins a GSA,
Eggen called the decision a defeat for Kenney and his allies, and Notley reinforced that idea on Thursday.
"Jason Kenney supporters and his proxy group failed in their bid to suspend protections for vulnerable young kids in our schools," Notley said. "And we were very pleased yesterday that the courts said to do that would be to make kids unsafe, and they would not do it."
On Wednesday, Kenney said Eggen's comments were an example of the NDP politicizing the issue. He said the UCP respects the ruling from Court of Queen's Bench Justice Johnna Kubik.
"The courts are not political. The courts are independent of politics in our country," Kenney said. "Unlike the NDP, I don't think we should be politicizing independent decisions."
Kenney took the opportunity to be critical of new farm safety rules, still commonly called Bill 6, which come into effect Dec. 1.
​The 17 changes or exemptions to occupational health and safety rules will apply to the province's 4,200 farms and ranches. Kenney said he's committed to repealing the legislation.
"What we hear from Alberta farmers loud and clear — not professional lobbyists but regular hardworking people in agriculture — is that this bill is a massive cost driver for them. It is unnecessary red tape," Kenney said Wednesday evening.
Notley on Thursday said that Kenney's policies are dangerous.
"I think it is incredibly backward looking of Mr. Kenney to suggest we would throw that out," Notley said. "I think quite frankly people will die and families will be left without compensation if he moves forward on that plan. It is incredibly unwise."​​
Connect with David Thurton, CBC's Fort McMurray correspondent, on Facebook, Twitter, LinkedIn or email him at david.thurton@cbc.ca