Northern California wildfires prompt evacuations, burn homes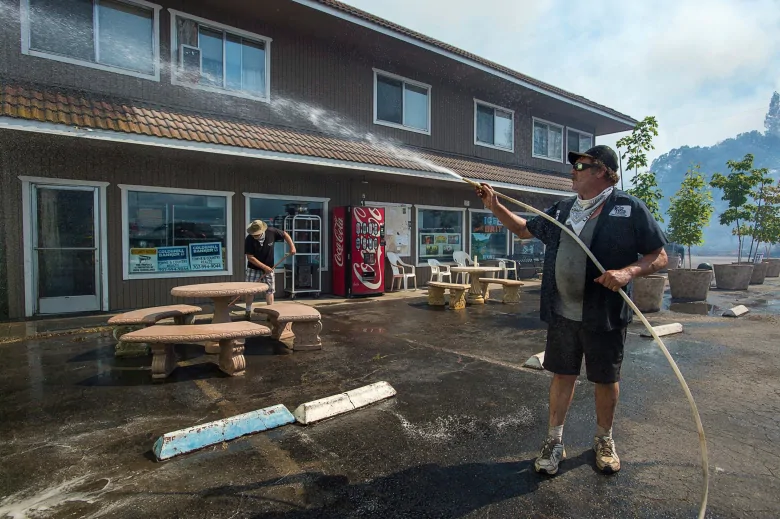 Hundreds of Northern California homes and businesses were threatened Monday after wind-driven wildfires broke out over the weekend, forcing thousands of residents to flee their homes throughout rural regions north of San Francisco.
The biggest fires continued to grow but there were no reports of injuries or deaths, California's Department of Forestry and Fire Protection said.
About 3,000 residents left homes in Lake County, about 193 kilometres north of San Francisco. A wildfire that was not contained grew to 21 square kilometres and destroyed at least 22 homes and buildings, the agency reported.
Fire Battalion Chief Jonathan Cox said more than 230 firefighters using helicopters, bulldozers and other equipment were battling the Lake County fire in a rugged area that made it difficult to get equipment close the blaze.
"It's kind of the worst possible combination," Cox said.
Kevin Clark helps to protect his brother's store as a wildfire burned and surrounded the area in Spring Valley. (Paul Kitagaki Jr./The Sacramento Bee/Associated Press)
Authorities also ordered residents to evacuate in Tehama County, about 320 kilometres north of San Francisco, where two wildfires were burning. One grew to six square kilometres, while the smaller one destroyed multiple homes and businesses in the city of Red Bluff.
A Red Bluff police officer helping residents evacuate lost his home to the smaller wildfire, authorities said.
Red Bluff Police Lt. Matt Hansen said Cpl. Ruben Murgia's pregnant wife and three young children were ordered to leave their home while he was on duty Saturday when the fire started. The family escaped safely, but lost nearly all the possessions, Hansen said.
Hansen said about $10,000 US in cash along with furniture and clothing has been donated to the family as they search for a rental home.
That fire was under control and nearly extinguished, Cal Fire reported.
Cal Fire battles a wildfire on Sunday in Spring Valley. (Paul Kitagaki/The Sacramento Bee/Associated Press)
Cal Fire said the larger fire was 20 per cent contained. A nearby casino was serving as an animal evacuation centre.
Residents also fled a wildfire in Shasta County about 480 kilometres north of San Francisco.
No cause has been determined for any of the fires.
Officials said hot weather, high winds and dry conditions are fuelling the fires less than a year after California's costliest fires killed 44 people and tore through the state's wine country in October, causing an estimated $10 billion in damage.
Downed power lines were blamed for 12 of the two dozen 2017 fires. The causes of the other fires are under investigation.
While the blazes were the first major blazes of the season to hit California, others have raged throughout the west for weeks. Last week, a Colorado wildfire forced residents of more than 1,000 homes to evacuate and led to warnings for others to get ready to leave.
The fire about 45 kilometres north of Durango was in the Four Corners Region where Colorado, Arizona, New Mexico and Utah meet — the epicentre of a large U.S. Southwest swath of exceptional drought, the worst category of drought.
Moderate to extreme drought conditions affect larger areas of those four states plus parts of Nevada, California, Oregon, Oklahoma and Texas, according to the U.S. Drought Monitor.