It's the Canada Day long weekend! Here's what to do in Edmonton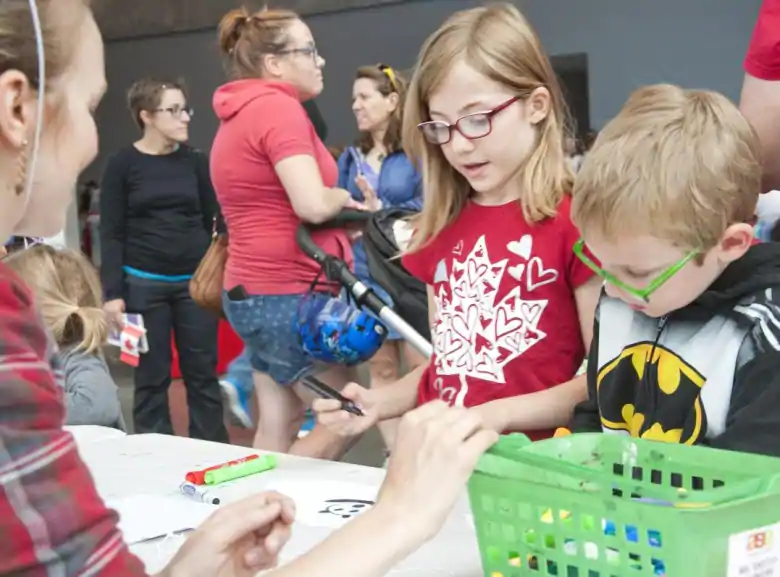 Canada 151 won't be getting the same kind of play as last year's sesquicentennial birthday bash, but there's still a lot going on.
Of course for many, the Alberta legislature is where to celebrate Canada Day and this year there is tons to do inside and out from pancakes, to concerts and fireworks.
Activities and adventures planned for the Art Gallery of Alberta to mark Canada Day. (Art Gallery of Alberta)
Mill Woods once again hosting its festivities for Canada complete with a petting zoo, live entertainment and fireworks in Mill Woods Park.
The Chinese Benevolent Association is hosting a Chinatown Night Market along 96th Street between 102nd and 103rd avenues to celebrate July 1.
You can commune with the wilderness while celebrating Canada Day at Elk Island National Park or stay in the city with the Art Gallery of Alberta, Muttart Conservatory, Fort Edmonton Park and Valley Zoo all offering events Sunday.
Speaking of birthdays, Edmonton International Raceway in Wetaskiwin is turning 50. It's offering special tours of the raceway Sunday with a chance to meet the racers and enjoy some free food.
At Elk Island National Park, you can celebrate Canada Day and nature. (Elk Island National Park)
You can stop by an intentional beach at the annual
Sand on Whyte
which features jaw-dropping sculptures at Whyte Avenue and Gateway Boulevard until July 8.
Life is a beach in Old Strathcona during Boardwalk Sand on Whyte from June 29 to July 8. (CBC)
In sports, the Edmonton Eskimos play the B.C. Lions Friday night at Commonwealth while the Prospects play a couple of ball games over at RE/MAX field.
The new Aga Khan Garden will be drawing crowds to the
University of Alberta Botanic Garden
all weekend.
The new Aga Khan Garden, southwest of Edmonton on Highway 60, opens to visitors Friday at the University of Alberta Botanic Garden. (Rick Bremness/CBC)
Alberta Dance Alliance offers Feats Festival of Dance which showcases some serious Canadian talent at various venues until July 7.
The Works Art and Design Festival continues with more than 300 performances at 30 or so Edmonton venues until Tuesday.
You still have time to catch some groovy tunes as part of the Edmonton International Jazz Festival on until July 1.
Hawrelak Park is the spot to catch the Freewill Shakespeare Festival featuring Comedy of Errors and Hamlet from now until July 15.
And finally, if you're looking to cool off and cruise the North Saskatchewan River, the newly named Edmonton Riverboat has relaunched and is offering tours daily until September.
For more community events you can catch Our Edmonton Saturday at 10 a.m., Sunday at 1 p.m. and Monday at 11 a.m. on CBC TV.
Public art part of the celebrations with the Works Art & Design Festival on until July 3. (The Works Art & Design Festival)