Freeland announces final tariff list, aid package as trade war with U.S. gears up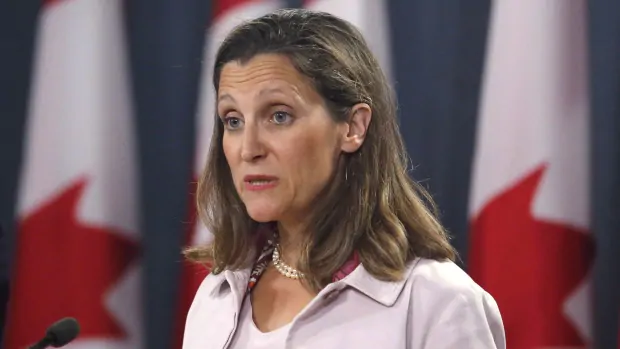 Foreign Affairs Minister Chrystia Freeland will reveal the final list of U.S. products that will be slapped with retaliatory tariffs starting Canada Day in an announcement later today.
The government is also expected to announce a compensation package for Canada's steel and aluminum industries this morning.
An announcement is scheduled for 11 a.m. ET in Hamilton, home to two large steel manufacturers. CBC News will carry it live online.
Details of the compensation package aren't clear, but an earlier report suggests it will be in the same range as the $847 million in loans made available to the softwood lumber industry.
The measures are in response to U.S. President Donald Trump's decision to impose 25 per cent tariffs on Canadian steel and 10 per cent tariffs on aluminum.
Freeland and Prime Minister Justin Trudeau announced dollar-for-dollar tariffs of their own back in May on some steel and aluminum products and other goods from the U.S. — including beer kegs, whisky, toilet paper and hair lacquers.
Government and industry officials say there have been some changes to the original list of U.S. products after consulting with Canadians.
Freeland will be flanked by Innovation Minister Navdeep Bains and Employment, Workforce Development and Labour Minister Patty Hajdu. International Trade Minister Francois-Philippe Champagne will address workers at the Rio Tinto aluminum plant in Saguenay, Que.