Forced detox program for child addicts failing families, Edmonton mother says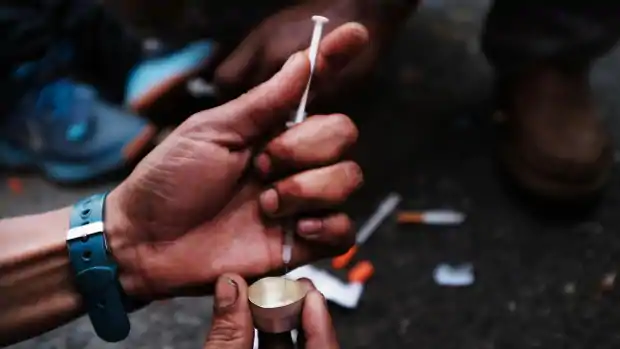 A forced detox program often considered a last resort to help Alberta children with addictions isn't enough to save many of them, says an Edmonton mother who used the program for her daughter.
The flawed program should include mandatory counselling for children and guardians during the confinement period, and provide better long-term treatment options, said Debbie, an Edmonton mother who asked CBC News to withhold her last name to protect her daughter's identity.
Alberta's Protection of Children Abusing Drugs Act allows parents or guardians to apply for a court order and place a child who is abusing drugs or alcohol in a protective safe house for up to 15 days.
"I would not have done it if I had another choice in my mind," Debbie said in an interview Friday with CBC Radio's Edmonton AM.
Earlier this week, Alberta's Child and Youth Advocate called for a review of the intervention process.
I would not have done it if I had another choice in my mind.– Edmonton mother
In his latest report, Del Graff investigated the lives of 12 young people who died of opioid poisoning between 2015 and 2017, and determined that half of them had been confined through PChaD orders prior to their deaths.
The process neglects the varying needs of drugs users and can fracture already tense relations between teens and parents, Graff concluded in his report.
'She dropped all her dreams'
Debbie said her daughter became addicted to cocaine at 17, a few months shy of high school graduation. She left home last spring for a weekend with friends, but never came back.
Within days, her daughter moved in with a boyfriend and stopped communicating with her family. She was abusing cocaine, marijuana and ecstasy.
"She lost all of her friends and dropped all her dreams," Debbie said.
Desperate after being told by police there was nothing to be done, Debbie sought help from a support group, Parents Empowering Parents, and learned about the PChaD program.
She met with an addictions counsellor to begin the paperwork and set a court date. Three months after her daughter left home, Debbie was in court asking that her daughter be confined against her will.
"I tell you, that is a very surreal moment, when you are standing there talking to a judge about your child," she said.
It was the worst moment in my entire life.– Edmonton mother
Her application for a protection order was approved by the judge, and soon Debbie met with police to arrange for her daughter's arrest.
"If standing in front of a judge is surreal, handing that protection order to three burley police officers in bulletproof vests to tell them to go get your child, it was the worst moment in my entire life," Debbie said.
"They arrested her on the street and took her off to the safe house."
After 10 days, her daughter left the safe house and returned to her boyfriend's home. Her daughter never sought treatment and has since aged out of the program.
Ten days was not long enough to help her daughter, Debbie said.
"She is very angry at me," Debbie said. "But as a parent, you can't make decisions based on whether your child will still like you."
Since her confinement, her daughter has become more and more aggressive, Debbie said.
"She's still lying. She's still doing cocaine. She's selling cocaine now and she's 18, so there is absolutely nothing I can do."
While it's too late for PChaD to benefit her daughter, Debbie said she is hopeful the program will be amended so other children can get the help they need.
"My daughter was about to turn 18, so I didn't have a lot of time," she said. "But there are children that are going into this program that are 14 that have a lot longer of an opportunity to work through it.
"I think families need a lot more support than they're getting."