Falling through the cracks: Desperate Alberta man's video shows gaps in mental health care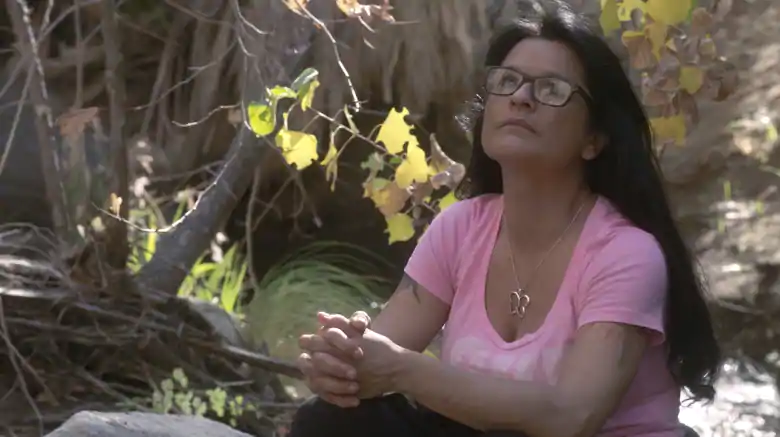 An Alberta man who feared he was a risk to himself and his family resorted to posting a public plea for mental health care on Facebook after he was sent away from multiple hospitals over the course of a month.
"They were basically saying, 'You're not sick enough,'" said Hans McCarthy, 33, of the Frog Lake First Nation.
"I think that's where the gap is, from people who are healthy to severely mentally ill. Then there are people who are in between."
Now, McCarthy is certified under the Mental Health Act and admitted to the Centennial Centre for Mental Health and Brain Injury in Ponoka.
But he worries that other people grappling with suicidal thoughts will experience the same gaps in the system that he did — and he doesn't want them to fall through the cracks.
Mental health experts tell CBC News that McCarthy's concern is not unfounded.
Mark Snaterse, Alberta Health Services' executive director of addictions and mental health in Edmonton, said too many beds are being occupied by people who are well enough to be released.
According to a report he received on Tuesday, all 613 of the beds reserved for mental health patients in the city's hospitals were full. However, 28 per cent of them were filled by people who could be discharged if there were insufficient community supports in place.
"We, as a system, have an accountability to make sure that if the hospital bed is not the most appropriate place for them, to provide that warm and supportive hand-off to something else," Snaterse said.
"We need to do it in a way that's going to get people connected to services and not feel like they've been left abandoned or unsupported. That's obviously something we, as a system, need to do better."
'I'm scared that I'll die'
Trouble for McCarthy, who said he doesn't have a history of diagnosed mental health issues, began on May 3 when he found himself with sky-high blood pressure, unable to eat or sleep.
He checked himself into the University of Alberta Hospital, where he was certified and transferred to Alberta Hospital for about a week and then released. He relapsed and checked himself into the Centennial Centre but without being certified, was able to leave on his own when he felt better.
Once again, he relapsed.
After that, he said he visited hospitals in Calgary, Red Deer and Edmonton where he was assessed and then sent home with medication.
Desperate, a teary-eyed McCarthy posted a video on Facebook on June 16 describing his struggle to get help. It's been viewed about 230,000 times and shared more than 5,500 times.
"This is a cry to the world, like for whoever who will listen, whoever can help me. I'm not mentally stable right now," McCarthy said in the video.
"I'm scared that I'll die or something will happen because I'm extremely depressed," he says in the video. "I don't feel good and I need help."
One of the people who saw McCarthy's plea was Edmonton-based Indigenous filmmaker Georgina Lightning, who has complex post-traumatic stress disorder.
"It hit me hard," Lightning said. "I was like, 'Oh my God, here's a guy who's struggling and he's being rejected from the system.'"
Lightning said she remembered how challenging it was to get mental health help when she needed it back in 2012.
"Everywhere I went, there were no resources. There was no help. Nobody knew how to help," Lightning said.
Georgina Lighting, pictured in a screenshot from one of her films, reached out to McCarthy after seeing his video. (Georgina Lightning)
Valuing mental health
Lightning eventually connected with Calgary-based family physician Tracy Thomson, who also runs a private clinic in Canmore that specializes in a technique called brain mapping. The neuroscience techniques can provide insights into mental health issues and guide treatment.
Thomson said about 80 per cent of her patients struggle with mental health issues and many are grappling with the gap in the system that McCarthy identified.
"I"m so glad he posted that video," said Thomson, who would have offered help had he not been admitted on June 21 to the Centennial Centre. "We all know that those people are out there suffering and they're unable to access help.
We all know that those people are out there suffering and they're unable to access help.– Tracy Thomson
"Where I see the shortcoming is exactly where he fell — and that is between someone who is stable and can go to once-a-week sessions and someone that needs to be admitted."
The Alberta government has studied this gap, releasing a report last year called Valuing Mental Health. It focuses heavily on the fragmentation in the system and the need to develop the community-based supports that Snaterse referred to when discussing how to free up hospital beds.
"We must make it easier for people to access and move through the system," stated the report, accompanied by a three-year action plan.
Additional barriers for Indigenous peoples
The report also notes the additional barriers facing diverse populations, including Indigenous peoples.
Snaterse said these continue to be a problem.
"It's a fact that our First Nations people in Alberta, there is a health inequity there and they do have worse health outcomes and a significant barrier to them accessing health care is trust," Snaterse said. "There's been decades of institutional racism and stereotyping that have worsened that trust."
Snaterse said improving health and mental health care for Indigenous peoples is a priority for Alberta Health Services.
McCarthy, a father of four with a long-term girlfriend, had been working full-time at a Boston Pizza restaurant 45 minutes from his home while taking a full load of online courses through NAIT before his mental health deteriorated.
"It was just too much to handle," McCarthy said.
McCarthy is Indigenous but he stressed that his difficulty was just in accessing basic services.
"As soon as you put Indigenous, people will think, 'Is there racism?' " McCarthy said, noting he did not feel it shaped this experience.
Hans McCarthy, prior to his breakdown. (Facebook)
Patti Laboucane-Benson, a director and researcher with Native Counselling Services of Alberta, said that when someone is open to accepting mental health help, providers need to respond within the window of opportunity.
"What I saw in that video was an individual who was quite desperate," Laboucane-Benson said. "I did find it disturbing that he was ready and open for help and he could not seem to find it — that there was not a service or a program or an individual that he could go to."
Laboucane-Benson said McCarthy's experience is likely mirrored by many Albertans of all backgrounds, particularly those in rural or remote communities where supports are weakest — if they exist at all.
"I'm so happy that he said that, that it's not racism," Laboucane-Benson said. "It's a really poorly implemented community-based mental health system.
However, Laboucane-Benson noted that many Indigenous peoples face what she calls the "double jeopardy" of living in isolated areas and struggling with historical trauma.
"Not only can they not access mainstream mental health in any significant way that would help them — even if they do, they're probably not getting services that understand their historic trauma needs," Laboucane-Benson said. ​
Laboucane-Benson said Indigenous-led, community-based healing programs that connect service providers and also address historic trauma could be a solution.
'Knowing that someone cares'
Lightning contacted McCarthy after seeing his Facebook post and met him on June 18 at the hospital in Edmonton, his second-last attempt to get help.
When he was turned away from the hospital, McCarthy said he was suicidal.
"I called my wife. I was saying my goodbyes. I called my dad. I said, 'I love you. I think the Creator wants me back,' " McCarthy said.
I was saying my good-byes. I called my dad. I said, 'I love you. I think the Creator wants me back.' – Hans McCarthy
"I was in such a deep depressed mood … like no one's going to help me."
McCarthy said his father drove into Edmonton and picked him up. His father took him to the Centennial Centre in Ponoka, to which he had previously been voluntarily admitted. On his second visit, he was certified under the Mental Health Act when he was admitted.
"It's still not over yet," McCarthy said, "but now it feels like there's hope."
"I've been having calls and Facebook messages from all over the world. It's so much I can't even get back to them," McCarthy said. "When I turn on my phone, it just dings, dings, dings for minutes."
McCarthy said the experience has helped him to understand how important it is to feel valued and taken seriously.
"One of the things that really helped me was knowing that someone cares," McCarthy said. "I think there's a gap in the healthcare system for someone like that." ​