Erdogan, seeking to cement presidential powers, leading in Turkey's vote count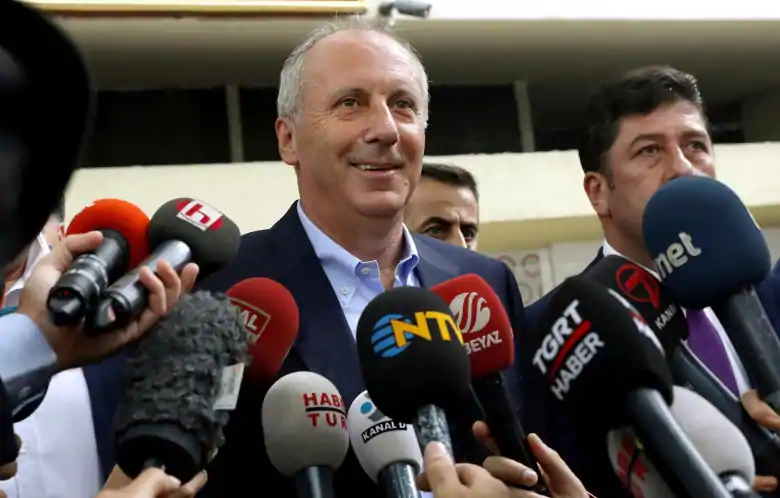 ​Early partial results in Turkey's elections show incumbent President Recep Tayyip Erdogan in the lead, with challenger Muharrem Ince in second place.
With 22 per cent of the country's ballot boxes counted, Erdogan had 59.1 per cent of the vote, with Ince at 26.5 per cent, Turkey's official Anadolu news agency said.
Turks were choosing both a president and new parliament Sunday in one the most fiercely fought election in years.
Erdogan has been in power for a decade a half. But he now faces a major challenge from the opposition.
Polls heading into the vote suggested the ruling Islamist-rooted AK Party could lose parliamentary majority, which could hamper Erdogan's ability to power Turkey's new executive presidency.
Ince, head of the Republican People's Party and the main opposition presidential candidate, urged monitors and citizens to protect ballot boxes on voting day against fraud.
Muharrem Ince, the candidate for Turkey's main opposition Republican People's Party, has called on citizens 'to not abandon the ballot boxes' as polls closed in critical dual presidential and parliamentary elections. (Ali Unal/Associated Press)
Speaking to reporters in front of the High Electoral Board (YSK), Ince warned members of the YSK to "do your job the right way" and not leave their stations without signed results.
Opposition parties and NGOs said they were deploying half a million monitors at ballot boxes to prevent fraud. They argue election law changes and fraud allegations in the 2017 referendum raise fears about the vote's fairness.
The results will transform Turkey's parliamentary governance system to a powerful, new executive presidency long sought by Erdogan and backed by a small majority of Turks in the referendum.
Critics say it will further erode democracy in the NATO member state and entrench one-man rule.
Six candidates, including Erdogan, are competing for the presidency. Eight parties are bidding for 600 parliamentary seats. Five of them are also part of two competing electoral alliances.
The alliances — new in these elections — allow smaller parties to bypass a 10 per cent threshold required for individual parties to enter parliament. Alliance votes will be distributed to the parties according to the ratio of votes they received individually.
More than 59 million Turkish citizens, including some 3 million living abroad, were eligible to vote. There are no exit polls.
​