Edmonton Music Awards celebrate local artists, highlight industry's diversity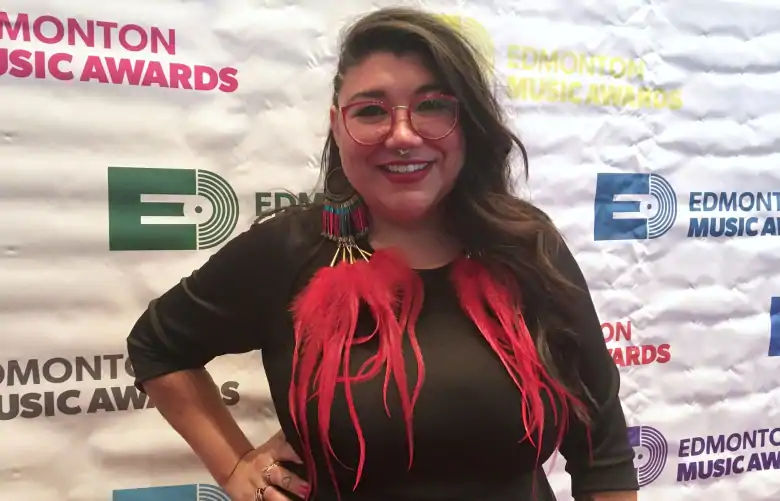 The city's best and brightest musicians were honoured Thursday night at the 2018 Edmonton Music Awards.
Twenty-eight awards were handed out at the Winspear Centre downtown in front of a lively audience of about 1,000 people. Dozens of local artists were recognized, highlighting the diversity of Edmonton's music scene.
Cristian De La Luna's Sabes won the prize for Latin recording of the year — a new category for the annual event.
De La Luna, who is originally from Colombia, said taking home the hardware gives him hope.
"I see a door opening for our culture. For diversity. For people accepting new cultures," he said after giving an acceptance speech on stage — some of it in Spanish.
"This shows that no matter what, we can go ahead and we can do something better. Keep dreaming no matter your race, no matter what language you speak."
Celeigh Cardinal was nominated for seven Edmonton music awards. (Anna McMillan/CBC)
Cree-Métis singer-songwriter Celeigh Cardinal claimed female artist of the year and Indigenous recording of the year, and was nominated in a total of seven categories.
For years, she has craved more representation of Indigenous people in the music industry. Thursday's event made that happen on a local level.
"I'm the leader in nominations and I'm an Indigenous woman, and that's pretty amazing. But that is not the case across Canada," she said, highlighting a lack of diversity at the Juno Awards.
Honouring local musicians with awards can be crucial for their careers, Cardinal said.
"[It] helps move them past this level to the national level and represent Edmonton on a global scale," she said.
Steve Derpack, the director for the awards, echoed Cardinal's statement, noting nominations and wins help artists build their profiles.
"We have a really big city with a lot of amazing musicians, and we just thought they deserve to be recognized and have one night a year to celebrate what everybody does day in and day out," he said.
The event has grown over the past eight years — a good sign for the Edmonton music scene, Derpack said. As the number of nominees and attendees expands, so does the desire for representation of a variety of genres and cultures, he said..
"We try to be diverse and inclusive and take the feedback that we get from the community every year and use that to create new positive experiences," Derpack said. "And I think after eight years, we're getting closer to that, but there's always room for improvement."