April GDP won't send 'hearts racing,' but it's enough for July rate hike, say economists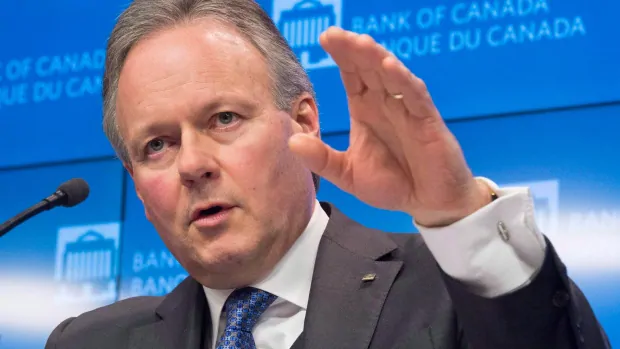 Slowing growth in the Canadian economy in April after a series of disappointing economic indicators this month "is not going to send many hearts racing," but economists say the better-than-expected reading is decent enough to lead the Bank of Canada to raise interest rates again next month.
Statistics Canada data released Friday showed that gross domestic product (GDP) in April grew 0.1 per cent after 0.3 per cent growth in March and a 0.4 per cent rise in February.
Despite a lower growth pace than the previous months, the figure beat market expectations of no growth in April, according to a poll of economists by Bloomberg.
On the back that, the odds of another interest rate hike by the central bank in July jumped to 84 per cent on the markets on Friday — 16 per cent higher than the odds on Thursday.
The Bank of Canada is set to decide on interest rates on July 11 after raising rates three times since July last year to bring the benchmark interest rate to 1.25 per cent.
Douglas Porter, chief economist at BMO Financial Group, said that all things considered, the small gain in April is a "respectable" result.
"While readily acknowledging that a 0.1 per cent rise in headline GDP is not going to send many hearts racing, this actually was a decent result in a challenging month for the economy," Porter said in a note. "Importantly, it suggests that growth was pretty much in line with the Bank of Canada's underlying expectations through the spring."
Manufacturing production in April was hit by the closing of oil refineries for maintenance, but the bulk of its other sub-sectors grew, leading to a 0.8 per cent increase.
Retail sales were also hit by poor weather, along with other services, but overall output in the sector was enough for it to reach its 25th consecutive month of expansion.
"With cold weather in much of the country, one-off factors hitting the mining and oil and gas industries, and some soft advance indicators, it was a welcome surprise to see a modest expansion of the Canadian economy in April," said Brian DePratto, senior economist at TD Economics, in a note.
"What's more, to the extent that weather played a role in holding back growth, we should see an acceleration in May as this factor reverses."
Fallout from weaker loonie
Porter also pointed out that the sharp decline in the Canadian dollar recently has given the central bank a bit more room to hike rates next month.
"With the backdrop of an economy operating around potential, inflation close to target, and nothing concrete on the trade front since May 30, [Governor Stephen] Poloz will likely be reluctant to do a 180 and turn dovish [not aggressive] after signalling that a July hike was a strong possibility," he said.
While the Canadian dollar rose almost one per cent against the U.S dollar since the GDP data came out on Friday morning, it is still down almost seven per cent since hitting its highest point in January this year.
A weaker loonie makes it cheaper for exporters to sell goods south of the border and abroad.
Does it matter?
However, Derek Holt, vice-president at Scotiabank Economics, said it's unlikely that today's GDP data matters much to the central bank, but it also doesn't hurt the case for hiking rates.
"Governor Poloz would have had a strong sense of today's print when he spoke on Wednesday … recall that at his recent press conference, governor Poloz emphasized how 'hundreds of data points' are relied upon and not just a handful," Holt said.
"The strong message to the markets is that data hits and misses that accumulate over time will be taken into consideration, but that thus far there has been no material deviation from the Bank of Canada's policy framework that suggests deviating from plans to tighten monetary policy."
Poloz spoke in Victoria on Wednesday where he said that the impact of the trade war between Canada and the U.S. and new mortgage rules on the housing market will "figure prominently" on the bank's upcoming decision on rates.
On the flip side, Stephen Brown, senior economist at Capital Economics, said a rate hike by the central bank in July would be a wrong decision.
"We already knew that manufacturing sales declined in April, so the rise in output was due to a strong inventory buildup, which will not be sustained. And while unseasonably cold weather explains part of April's 0.5 per cent drop in construction, it's worrying that the fall was concentrated in the residential sector, " Brown said in a note.
"Indeed, in light of the downturn in the housing sector this year, it is hardly encouraging that retail trade fell by 1.3 per cent in April, even if the weather played a role here too."