Alberta gets $500M increase in job-training funds from Ottawa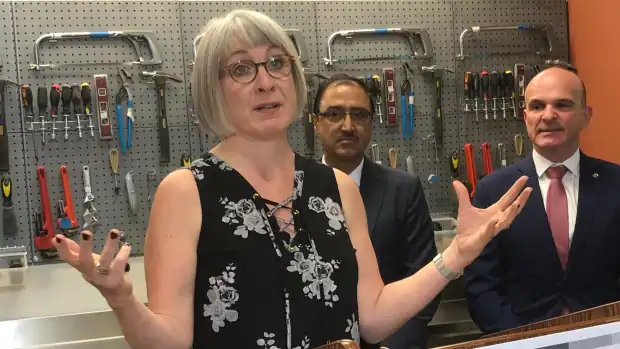 The federal government will boost job-training funding for Alberta by $500 million over six years, bringing the total for the period to $1.7 billion, Employment Minister Patty Hajdu said Wednesday in Edmonton.
New agreements between Alberta and Ottawa will increase the jobs and skills training available to Albertans, including apprenticeship training, self-employment training, academic upgrading, English as a second language and more, Hajdu said.
The $500-million increase means about 124,000 more Alberta workers will benefit than under the previous agreements, the federal government said in a news release.
The funding is designed to help more women get into skilled trades.
"Women often have a hard time getting jobs that pay well, they're often over-represented in things like the service sector," Hajdu said on CBC Radio's Edmonton AM.
It's a "win-win" if more women can get into the trades and keep those jobs, she said.
"It's a win for women who want to earn more and have those great middle-class jobs that often come with benefits and pensions, and it's a win for Canada because we need those folks," Hajdu said.
Each year in Canada, 65,000 skilled trades jobs go unfilled, she said. Employers often turn to foreign workers to fill the positions.
Funding for Alberta increased
While each province will get a similar transfer of funds, Alberta is getting the highest percentage increase because of the thousands of people who lost their jobs in recent years as oil prices dropped, Hajdu said.
"Lots of people are looking to re-skill or change their careers," she said.
Christina Gray, Alberta's labour minister, said she appreciates that the federal government has recognized the need to increase funding to Alberta to match the economic reality in the province.
"We all know when Alberta succeeds, Canada succeeds," Gray said.
The money will support a range of programs and services that provide Albertans with the opportunity to upgrade their skills, gain experience, start their own businesses, and receive career planning support, she said.
There are also specific programs to support women, Indigenous peoples and people with disabilities.
While help is still needed, the economic situation in Alberta is improving, Gray said.
"There were 90,000 new jobs created last year, but we know that there's way more work to do to ensure that Albertans can get the skills they need for the jobs they want."