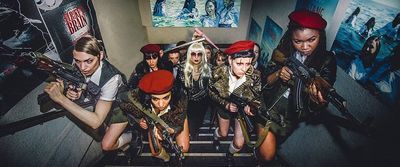 Radical Queer Canadian filmmaker Bruce LaBruce is these days making films with more visual polish than such early fare as 1993's "No Skin Off My Ass" (a piece of subversion beloved of Kurt Cobain and Gus Van Sant) but as "The Misandrist" sometimes quite rudely testifies, he's far from domesticated.
LaBruce, who frequently works in Germany for reasons business-related (I presume) and maybe on account of aesthetic affinities (the late Rainer Werner Fassbinder and Rosa von Praunheim are perhaps kindred spirits), casts German actress and frequent collaborator Susanne Sachße as Gertrude, aka Big Mother. The founder of the Female Liberation Army, a small radical separatist group, she presides over a house full of teachers and younger women who dress as nuns and schoolgirls whenever the local authorities drop in. When local authorities aren't dropping in, the girls are given lessons in parthenogenesis (look it up) and "Herstory." (One of the teachers is played by Kembra Pfahler, who rocked the nation and world as lead singer of The Voluptuous Horror of Karen Black). The students also study cis-male gay porno films (this movie is very invested in compelling trigger warnings specially designed for people who turn up their nose at trigger warnings, considering them for snowflakes, as in its generous on-screen samplings of the aforementioned gay porn; don't say I didn't warn you, non-radicals!) in preparation for making their own porno, which will serve as propaganda for the anti-male movement.
Into this Eden of Estrogen, a snake is introduced. While out romping in the fields, students Hilde (Olivia Kundisch) and Isolde (Kita Updike) come upon young Volker (Til Schindler), a male radical who's limping though the forest after having vandalized the Stock Exchange. Isolde insists on taking him in and hiding him in the residence's basement to heal up.
This plot sounds like "The Beguiled," right? Trust me, this movie is NOTHING like "The Beguiled," For one thing, it's not nearly as plot-driven. LaBruce takes things slowly, letting his dialogue drawl languidly and with little affect from his performers' mouths; the style of acting here, as in other LaBruce pictures, seems heavily influenced by the '60s sci-fi oddity "Creation of the Humanoids."
The dialogue, while not always so clever (the adaptation of prayers and salutations to remove reference to the male gender is milked a little overmuch), is almost always amusingly provocative, as when Big Mother muses "Only nuns and prostitutes can escape man while still being subjected to him."
LaBruce also celebrates female solidarity with a pillow fight lovingly shot but not indulging the standard Male Gaze. As we await the inevitable discovery of Volker, characters give their back stories, rivalries come into focus, and problems of identity intensify in interesting ways. I suppose I should give a second trigger warning and reveal that in the film's climax, there's a whole bunch of unsimulated footage of an actual vaginoplasty. Not unseeable.
If you think you can handle these sights, however, "The Misandrists" presents an unusual atmosphere, one mainstream cinema can not even conceive of, let alone get on a screen. Which in this era of cookie-cutter corporate quasi-mythmaking has to count for something.