The B.C. pipeline project you've never heard of — and why it may succeed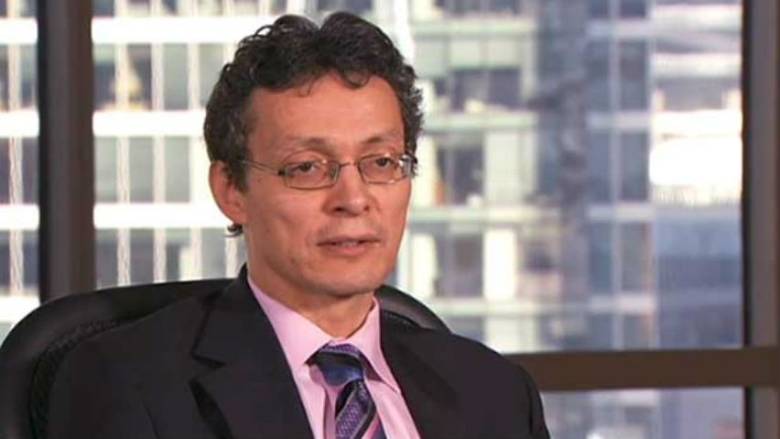 You've likely never heard of the Eagle Spirit Energy pipeline, but for the past five years the project's leader has been quietly working on the plan to build the next pipeline across northern B.C.
"We are now putting together a very solid commercial plan for how we are going to do this," said CEO Calvin Helin earlier this week.
Q&A

Indigenous-led energy company plans GoFundMe to legally challenge federal tanker moratorium
Helin is a member of the Lax Kw'alaams First Nation located on the north coast near Prince Rupert. That's where the proposed pipeline linking Alberta's oil sands with the West Coast would terminate.
Calvin Helin is a member of the Lax Kw'alaams First Nation and CEO and president of Eagle Spirit Energy. (CBC)
At 1,500 kilometres in length, the pipeline would carry up to two million barrels of medium to heavy crude oil a day from Fort McMurray to tide water on the West Coast.
Estimates put the cost of the project, which has the backing of the Vancouver's Aquilini Investment Group, at $16 billion.
While such a proposal might seem foolhardy given the current politics in B.C., Helin is confident his proposal will succeed where others have stumbled or failed of late.
Bypassing tanker ban
One obstacle any northern pipeline would face is the federal Liberals' oil tanker ban. Bill C-48 is expected to pass final reading in the House of Commons next week.
That ban was first announced in November 2016, when the Liberal government halted Enbridge's proposed Northern Gateway pipeline across northwestern B.C. 
The Eagle Spirit project has been framed as an alternative to Northern Gateway.
If the tanker ban becomes law sometime later this year, it would seemingly render pointless any future crude oil pipelines with terminals on the North Coast.
Bill C-48 is expected to become law sometime this year, banning crude oil tankers from B.C.'s north coast. (Chris Corday/CBC)
But Helin says he has two possible solutions to bypass the ban.
First, his brother John Helin, who is the elected leader of the Lax Kw'alaams Band, has already launched a constitutional challenge in B.C. Supreme Court
That lawsuit claims First Nations were not properly consulted on the tanker ban, which he claims is discriminatory and infringes on their Aboriginal title.
Take it across the border
If the court challenge fails, Eagle Spirit Energy has a plan to avoid the tanker moratorium entirely, Calvin Helin says.
He said the group has signed a memorandum of understanding (MOU) with a landowner across the U.S. border in Hyder, Alaska. The tiny town wants to host the pipeline as an alternative location for the port terminal, Helin said.
That landowner is Walter Moa, the president of Roanan Corp, who confirmed he's ready to do a deal to put the terminal on his land if necessary.
That would allow the supertankers to load up Alberta crude on the U.S. side of the Portland Channel, thereby avoiding Canada's jurisdiction altogether.
Both men say support in Alaska for oil projects runs deep.
"Within three weeks of that, we were contacted by the Alaskan government saying they would welcome the terminal with open arms." said Helin.
Agreements in principle in place
Another major obstacle that Helin claims he's overcome is securing agreements in principle with every one of the First Nations along the proposed route.
"That is where we have invested all of our upfront effort." said Helin, who admits it has been a challenging task getting so many First Nations on board.
"It's taken us five-and-a-half years," said Helin. who is now in the process of finalizing those agreements. "Pretty much we've just about got the whole thing done."
The leaders of the Eagle Spirit Energy pipeline project say they now have agreements in principal from 35 First Nations along the pipeline route, and are moving toward signing final agreements. (Eagle Spirit energy)
Just who is signing those deals remains confidential and protected by non-disclosure agreements. CBC News has not confirmed they are in place along the entire route, 
But several First Nations along the route have publicly supported the project since it was first announced in 2015, including representatives of the Lax Kw'alaams, Gitxsan and Alberta's Treaty 8 First Nations.
Other First Nations leaders who might normally be opposed to such projects, such as Coast First Nations Board Chair Patrick Kelly, are reluctant to speak critically of it.
'That's the law and I respect it'
Even NDP MP Nathan Cullen, who represents the North Coast of B.C. and has supported the tanker ban, says if the project has First Nations support, he would be on board too.
"My highest order principles are First Nation rights and title, because that's law and I respect it." said Cullen.
He notes the First Nations approach is also getting the attention of major players in Calgary who learned from the mistakes made by Enbridge.
New pipelines have faced significant obstacles in recent years, but the backers of the Eagle Spirit Energy pipeline say they have all the pieces in place for a successful project. (Jonathan Hayward/Canadian Press)
As for financing, Helin has already signed an agreement with Altacorp Capital, which is partially owned by the Alberta government, to raise the first $12 billion.
His next step, he says, is to put together a team of industry experts that will assemble an application to take to the National Energy Board for sometime in the next year and half.
If these obstacles can be overcome, Helin hopes the project could be completed in six years.