'Seems like yesterday we were taking them home': Alberta quadruplets turn 2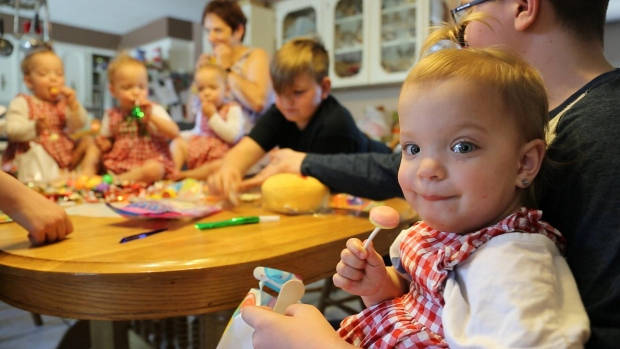 Bethani Webb and her husband Tim buy in bulk.
The couple's identical quadruplet daughters go through nearly 100 litres of milk and more than 700 diapers a month.
For their second birthday, the four girls celebrated with two homemade cakes, dozens of cupcakes, brownies and cookies.
Emily, Abigail, Grace and McKayla Webb turned two on May 6, with a birthday party planned for today at the community hall in Hythe, Alta.
"I can't believe I have four two-year-olds," their mother said. "Seems like yesterday we were taking them home."
Together, the toddlers now weigh almost 100 pounds. Webb, who quit her job to look after the quadruplets, said she relies on help from her family and their tight-knit community of Hythe.
The northern Alberta village of about 830 people grew by four when Webb brought her quadruplets home from hospital in 2016.
"It's been very, very busy," Webb said. "The community in Grande Prairie and the community in Hythe and even beyond has been so amazing."
Family, friends and strangers have pitched in with diapers and other donations, Webb said.
She keeps the community updated on the girls' progress online, uploading videos and photos of "the quad squad" to a public Facebook page.
More than once, the content has gone viral with thousands of likes and shares. A video of the sisters hugging each other, posted in January, garnered nearly 70 million views.
Webb said she doesn't let her family's online fame get in the way of raising the quadruplets.
"We don't really mind the attention but we don't really give into it either," Webb said. "We mostly live a really quiet life.
"We're in a small community and it's nice because the girls do get peace and quiet and they do get to run around in the yard without being bothered."
Two years after giving birth to multiples, Webb said she can't imagine her life without them. Even twins seem too quiet, she said.
But "four's going to be our magic number," she added. For now, Webb and her husband want to focus on raising the quadruplets.
"There's absolutely no regrets," Webb said.
"They are beautiful, perfect, strong, healthy little girls and they're so active and I can't imagine my life without any of them. I'm so glad to have them, I wouldn't change a thing."