Revised proposal for Holyrood Gardens doesn't win over neighbours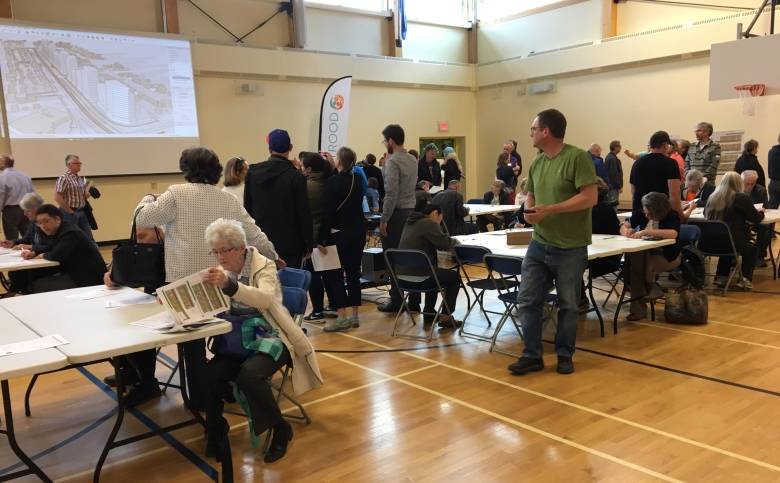 A developer's revised proposal for the contentious Holyrood Gardens project drew more objections from residents at an open house Wednesday.
The project, which runs along 85th Street between 95th Avenue and 90th Avenue, proposes a mixed-use, transit oriented development — and includes a Valley Line LRT stop.
After a public hearing in November, city council voted to refer the application back to city staff and the developer, Regency Developments, for a redesign.
At the time, Regency Developments was proposing four-mid-rise towers and three high-rise towers that could reach as tall as 22 storeys.
The proposal would be a redevelopment of the existing site, which includes 160 two-storey townhouse units.
Traffic congestion, the height and shape of the buildings, and the development's transition into the neighbourhood were the hotly-debated issues raised at the November hearing.
The revised proposal presented Wednesday includes an increase from 1,200 to 1,450 units among seven buildings of different heights, with the maximum up to 17 storeys. Six of the seven buildings would have towers.
'Every proposal seems to get worse'
"We feel it's a step backwards," said Dave Sutherland, with the Holyrood development committee. "We feel like the developer is asking for too much and not mitigating the impacts of it."
Hundreds of people came out Wednesday evening to voice their concerns over the new Holyrood Gardens proposal. (Kaylen Small/CBC)
The revisions are not what the group was expecting, which is disappointing, said Sutherland, who has lived in the neighbourhood for eight years.
The revised proposal makes the towers shorter and narrower, but they will still cast large shadows over single-family homes in the area, he said. 
"Every proposal seems to get worse," said Bob Mann, who is moving into the neighbourhood in a few months.
The increase in units means the developer is not listening to the community's needs, said Mann.
"We're treading water right now. They want feedback; feedback is given. It's not listened to. In fact, it's made worse," he said.
"It's going to look like it's downtown, but this isn't downtown. This is a bedroom spot that's close to downtown, but people live here because of the community," said Mann. 
Holyrood proposal feedback from Bob and Marion Mann. (Kaylen Small/CBC)
While he is in favour of development along the LRT, he wants to make sure the city controls the scale of it.
"I think reducing the density, reducing the building heights, that will help with the traffic flow, that will hit all three of the big topics that keep coming up time and time again," Mann said.
A balancing act
Raj Dhunna, chief operating officer at Regency Developments, stands behind the new design.
"We feel this is the best proposal we've brought forward and there's not much for us left to give here," Dhunna said.  
There had to be height variation to address the original buildings — or the "Berlin Wall" as he jokingly called it — which justifies the increase in density, he said.
"In addition to the 15 items we've addressed and incorporated into our new proposal — on top of the fact that we have concrete buildings in what we're proposing — it allows for the uplift of 250 units to make the economics work," Dhunna said.   
Raj Dhunna (centre), chief operating officer at Regency Developments, talks with people attending Wednesday's open house. (Kaylen Small/CBC)
Coun. Ben Henderson said he is puzzled by the density increase and still has questions about how the buildings will fit in.
"My fondest hope was everybody would work well together to come up with something everybody could be excited about," Henderson said. "I'm not getting a sense that's happened and I think it's a sad opportunity lost at this point. I hope it can still happen."
Feedback from Wednesday's open house will be summarized in a report for council to consider.