Rachel Notley threatened to change Insurance Act if Fort McMurray claim extensions weren't granted, memo says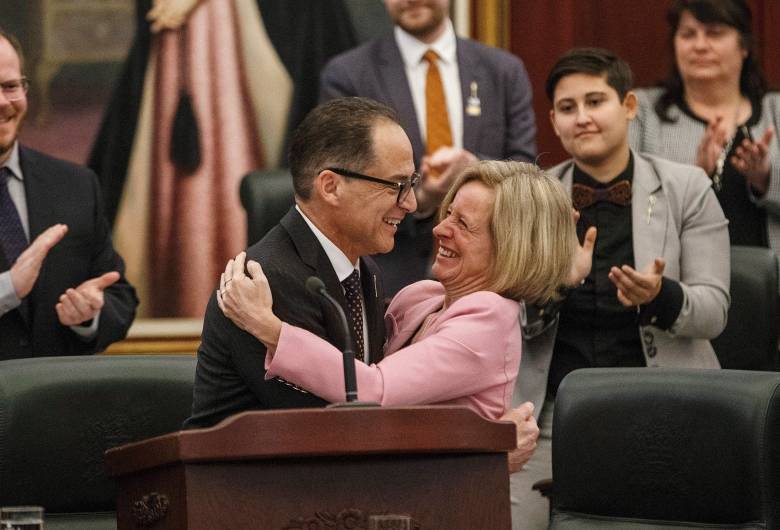 Premier Rachel Notley threatened to change the Alberta Insurance Act if insurance companies did not offer extensions for Fort McMurray wildfire claims, according to a memo.
On May 2, on the eve of the wildfire claims deadline, the Insurance Bureau of Canada (IBC) said in a memo to its members the Alberta Superintendent of Insurance issued the provincial "government's expectation" that insurers were to grant a one-year extension for wildfire claims.
"…In the absence of insurers' agreement to provide a one-year extension on all open claims, the Superintendent verbally represented to IBC that Premier Rachel Notley will introduce changes to Alberta's Insurance Act to compel insurers to do so," reads the IBC's "Breaking News" bulletin sent to its members.
IBC's Western Canada vice-president Bill Adams called the move a "reversal of the government's decision" in the bulletin.
Prior to May 2, Alberta's Finance Minister Joe Ceci told media that the provincial government did not have the power to grant extensions to claims that were unsettled before the two-year cutoff stipulated in the Alberta Insurance Act.
Ceci also denied a request in March from Fort McMurray regional Mayor Don Scott, who requested the province provide a blanket extension for all residents given the enormity and complexity of the disaster.
Minister of Finance Joe Ceci and Alberta Premier Rachel Notley hug after delivering the budget in Edmonton on March 22nd, 2018. (Jason Franson/Canadian Press )
'It was quite shocking'
Bryce Kumka, a partner with Rogers Insurance in Fort McMurray, said he was taken aback by the recent IBC bulletin.
"It was quite shocking when I read the notation that the insurers were being compelled to comply," Kumka said.
The Alberta government didn't say it would force insurers to offer extensions when it gave its latest update to media on the Fort McMurray wildfire claims on Wednesday.
"I was very disappointed," Kumka said. "[The province didn't talk about] taking out their legislative stick and compelling insurance companies to do what they should do."
'No one is helping us'
There are still 900 unresolved insurance claims from the Fort McMurray wildfire which happened in 2016.
About 150 wildfire claims have not been granted extensions, Ceci said Wednesday.
Tamara Laverdiere was one of the residents denied an extension.
Laverdiere is suing her insurance company after they denied her claim.
Her windows, siding and the structure of the house sustained heat damage during the wildfire at her home in Abasand, but Laverdiere's insurer doesn't believe her.
Tamara Laverdier, seen in this May 18th, 2018 photo, was denied an extension and wanted the government to step up and defend policyholders in Fort McMurray. Her home is riddled with problems caused by heat damage. (David Thurton/ CBC)
She wanted the government to step up and defend policyholders in Fort McMurray before the May 3rd deadline.
"We still feel that no one is helping us at this point," Laverdiere said. "There's no government stepping in and saying what the problem with these insurance companies really are."
The province and IBC did not respond to comment prior to deadline.
It's unknown whether the province will adjust the Insurance Act to address the outstanding claims.
Conncet with David Thurton, CBC's Fort McMurray correspondent, on Facebook, Twitter, LinkedIn or email him at david.thurton@cbc.ca