Quirky work: U of A props master makes her cake and caulks it too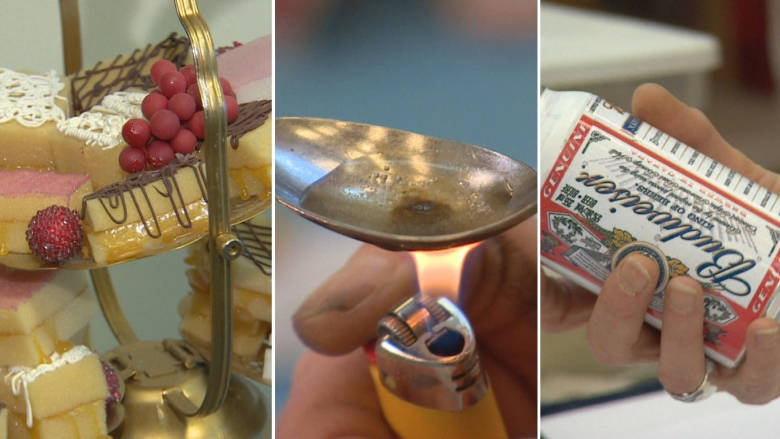 Jane Kline is a fake artist.
Everything Kline works on is fake, so fake it's hard not believe it's real. And for Kline, that's a job well done.
As props master at the University of Alberta drama department, Kline is responsible for everything that appears on the stage of the Timms Centre for the Arts that is not part of the set.
From fake beer (soda water), to fake heroin (beef bouillon), to fake cake (foam with caulk for icing), Kline comes up with it all.
It's something she's passionate about.
"I take pride in everything I do, but it's not when I'm sitting in the audience when I feel that," she said. "I love the doing of it. I love the making of it. I love the thinking about it, coming up with the right solution, knowing you'll look at five or six different ways to approach something.
"But you know when you have the right one. And that's really satisfying."
Kline's handiwork includes dainties (sadly all foam), heroin (beef bouillon thankfully) and beer (soda water, darn it). (CBC)
Kline works among tens of thousands of props on two floors of storage space, but every production requires something new. And that fires her imagination.
"I love all kinds of materials and tools and processes," she said. "I think I'm particularly taken with re-imagining how to use materials, up-cycling materials. It's being resourceful."
Kline at work among some of her creations. (CBC)
Kline is an integral part of the production team when it comes to staging the play.
"A lot of collaboration happens between carpentry and props, props and wardrobe, props and sound, props and audio. And I sometimes think of props as this sort of hub.
"I feel it's my job to support everybody, to help them make the best decisions, whether that's form, colour or texture."
Kline's story is part of a special edition of Our Edmonton called Quirky Work, which showcases Edmontonians doing interesting jobs in our community.
Our Edmonton is on CBC TV Saturday at 10 a.m., Sunday at noon and Monday at 11 a.m.
'You'll look at five or six different ways to approach something, but you know when you have the right one. And that's really satisfying.' (CBC)