Pointe shoes a pricey weekly investment for Citie Ballet's dancers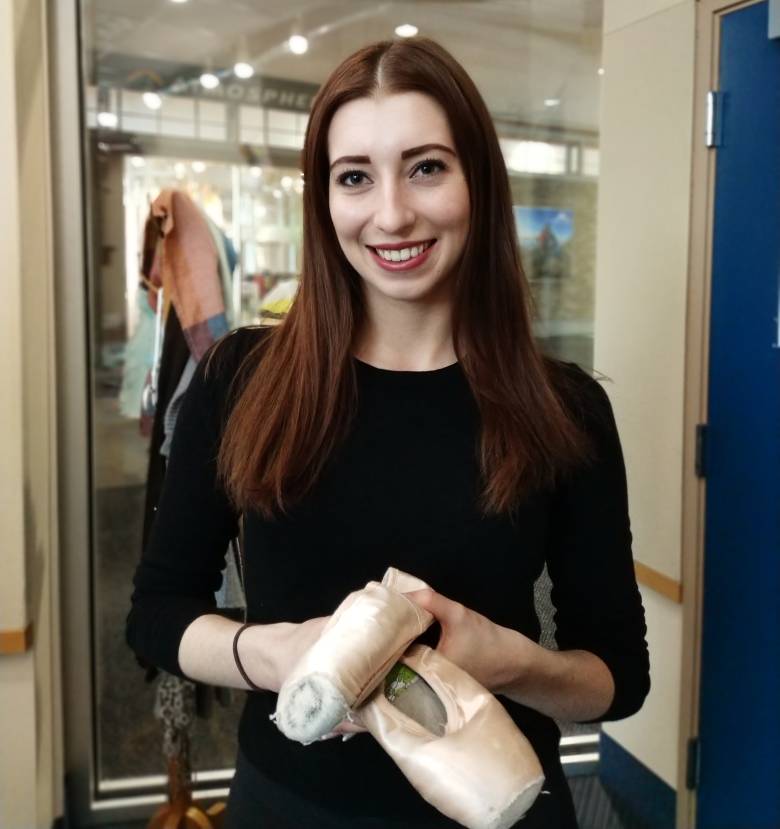 Imagine wearing out a pair of shoes once a week. It's the life of a ballet dancer, many of whom go through 30 pairs of shoes in one ballet season.
For the small Edmonton company Citie Ballet, going through 30 pairs of shoes with five dancers can cost almost $20,000.
The pointe shoes are made of satin with layers of hard fabric and glue at the toe of each shoe. The layers are flexible, which also means it can get worn down much quicker.
"It's got to have the ability to break down enough to mould to the dancer's foot," Sheri Somerville, the executive director for Citie Ballet, told CBC's Radio Active.
The block inside the pointe shoe can only fit two toes in it, which means the entire body weight of the dancer is falling on that block. The hard fabric layers wear out quickly.
"The foot sweats, and the sweat breaks down the box and the satin," Somerville said. "When the box and the satin break down and suddenly there's no more support, that's when you'll get a career-ending injury."
The Eyeopener's Paul Karchut visits Alberta Ballet to find out why pointe shoes are so important for ballet dancers. 6:06
Art & Sole
Isabella Pisapia is one of Citie Ballet's dancers who is facing an injury. She's not sure how serious it is, but she currently has a walking boot.
It's a stress fracture, one that can happen after hours of dancing on worn shoes. But those shoes are often worn in before the ballet dancers even put them on.
Pisapia said dancers will break in their shoes by bending them — or, in her case, hitting the block with a hammer.
"Every shoe is very personal to each dancer," Pisapia told CBC's Radio Active.
Isabella Pisapia has a walking cast from dancing on an injury with pointe shoes on. (Kyle Muzyka/CBC)
Somerville said dancers can have torn Achilles, ACLs, hamstrings and stress fractures by landing on their two toes.
"They're like thoroughbred horses, those dancers," Somerville said. "They take their bodies to the extreme and they take incredibly good care of their feet and their legs because they take such a pounding.
"If you can imagine standing right on your two toes — that's all that can fit into that box, is the longest two toes — [they] hold the entire body weight of a dancer."
Because the shoes are so important and so expensive, Citie Ballet holds an annual fundraiser called Art & Sole.
Thursday marks its third annual fundraiser, which is a shoe fashion show with cocktails and a silent auction. The proceeds of the event go to buying more shoes for the ballet — which Somerville said is likely one of the biggest sport expenditures.
"I don't think people recognize that," she said. "Could you imagine if a hockey player needed a new pair of skates every week?"
The event hopes to raise around $40,000 from the event, which would cover the estimated cost of shoes for the small ballet company.
Tickets are $50 — and Somerville said if you like fashion, shopping, food and cocktails, the Art & Sole event might be for you.
"It's going to be a party, it's going to be a celebration, and of course it's going to be a little glimpse of what we do here at Citie Ballet," she said.