National Aboriginal Hockey Championships coming to the North in 2019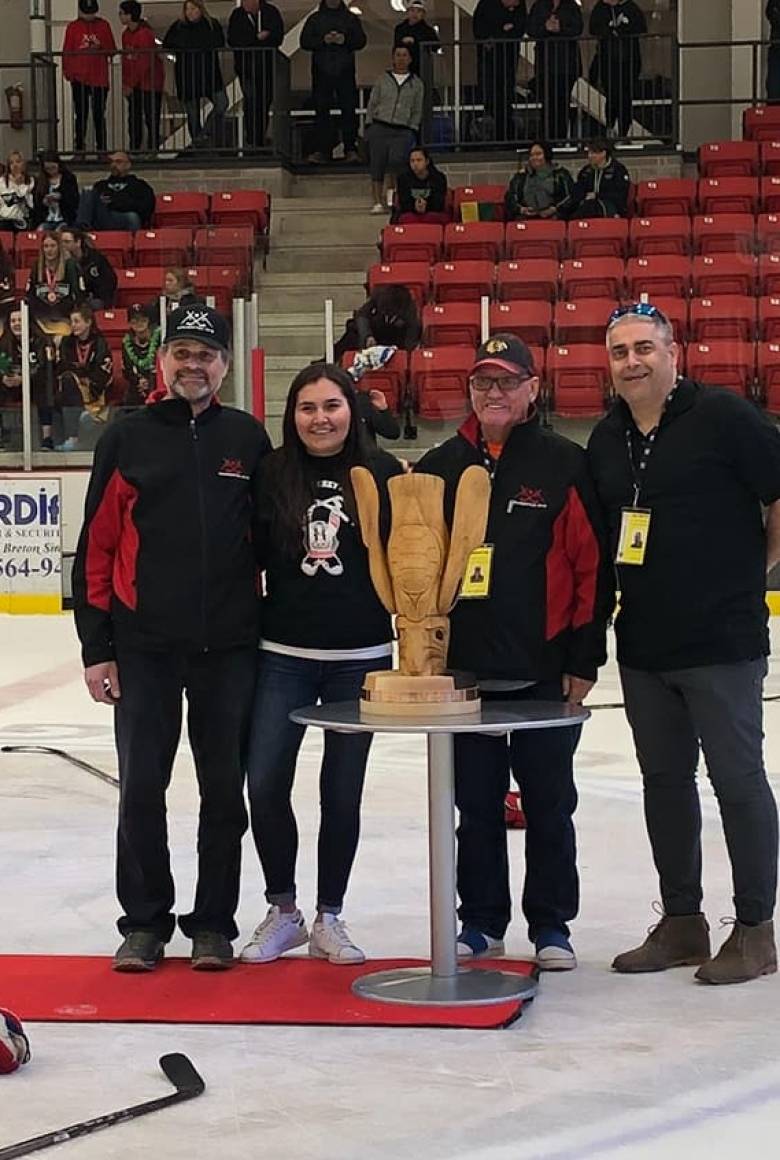 Michelle Dawson-Beattie of the Yukon Indian Hockey Association says it'll be "huge."
Hundreds of elite Indigenous hockey players will come to Whitehorse next spring, for the very first National Aboriginal Hockey Championship tournament to be held in the North.
Dawson-Beattie says this was the first time her association put in a bid to host the big tournament. The organization found out this month that they'd won.
"For it to actually happen, it's such a big accomplishment for us and we're really excited to show the rest of Canada what the Yukon can do," she said.
Michelle Dawson-Beattie, president of the Yukon Indian Hockey Association, with organizers of tournament in Membertou earlier this week. 'Membertou set the bar really high this year, but I'm hoping we can top it,' she said. (Yukon Indian Hockey Association)
"I'm very confident in my support team, that we can pull this off — no problems."
The tournament has been held annually since 2001, for bantam and midget-aged Indigenous players from across Canada. There are both boys' and girls' teams.
This year's event was hosted by Membertou, N.S., and Dawson-Beattie was there earlier this week when Whitehorse was announced as the next host community.
"Membertou set the bar really high this year, but I'm hoping we can top it for sure," she said.
Dawson-Beattie expects about 600 players and coaches from across Canada to come to Whitehorse, along with an estimated 300 or so family members and fans. She says Sport Yukon did an economic analysis and predicts the week-long event could bring more than $1.4 million into the community.
"So that's huge in Yukon, in not one of our busy times," she said.
Dawson-Beattie says Air North and a number of local hotels have already offered their support.
Some of the Team North players in Nova Scotia last week. The annual tournament draws hundreds of players, coaches and family members from across Canada. (Aboriginal Sport Circle NWT)
She says Whitehorse is a "huge hockey community," and she hopes the event will give local youth something to aspire to.
"We're going to get them involved any way we can in the tournament, whether they want to be like refilling water bottles or just volunteering around — so they can get a feel of this tournament, and this calibre of hockey."
The event is scheduled for May 3 to 11, 2019.