Morneau says government willing to compensate Kinder Morgan against political delays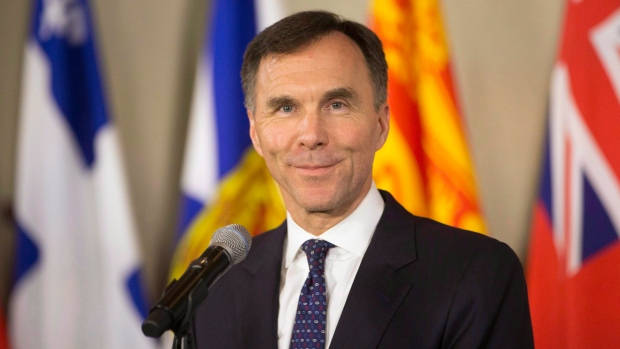 Finance Minister Bill Morneau says the Canadian government is willing to compensate Kinder Morgan against any financial loss due to British Columbia's attempts to obstruct the Trans Mountain pipeline expansion.
Morneau held a news conference in Ottawa to lay out the broad strokes about what his government is willing to do to help the project go ahead. It was the first detailed update on the government's efforts to save the controversial pipeline expansion since Prime Minister Justin Trudeau asked his economic lieutenant to work with Kinder Morgan to find a path forward.
Morneau said that if Kinder Morgan bails on the project, the government would reimburse any other investor that would like to take the project on against financial loss.
"Any support that Canada provides to ensure that this project proceeds must be sound, and fair and beneficial for Canadians."
Wednesday's news conference was announced late Tuesday night as Morneau consulted with senior officials in the Alberta government. Morneau also spoke with Kinder Morgan CEO Steve Kean by phone to tell him what he was going to say.
The timing of the Morneau update is important for another reason: With Kinder Morgan shareholders meeting Wednesday in Calgary, it's an opportunity for him to put public pressure on the company.
A senior government official cautioned Tuesday that talks "are not over by a long shot."
Kinder Morgan has threatened to abandon the project if a clear path forward isn't reached by May 31. The company's statement came after a months-long standoff between the British Columbia and Alberta governments, with B.C. working to block the pipeline for environmental reasons over Alberta's objections.
The expansion would add a second pipeline along an existing pipeline route to carry diluted bitumen from Alberta to the B.C. coast for export on tankers.