'He is not our czar': Russians protest ahead of Putin's inauguration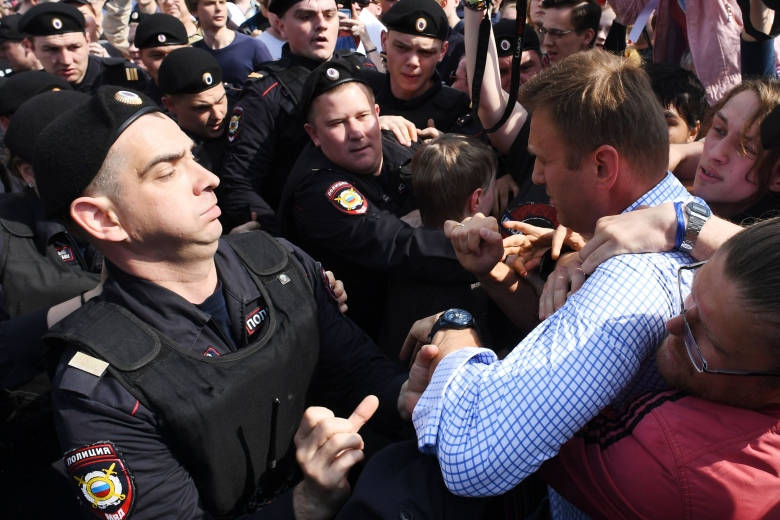 Thousands of demonstrators crowded into one of Moscow's main squares on Saturday as part of nationwide protests against the upcoming inauguration of President Vladimir Putin to a new term.
Police in riot gear waded into the crowd on Pushkin Square and were seen grabbing some demonstrators and leading them away, but there were no immediate moves to disperse the unauthorized gathering. A helicopter hovered overhead to monitor the crowd.
Russian riot police officers move in to arrest Navalny during the rally, held two days ahead of Vladimir Putin's inauguration for a fourth Kremlin term. (Kirill Kudryavtsev/AFP/Getty Images)
The protests Saturday under the slogan "He is not our czar" are organized by Putin's most prominent foe, anti-corruption campaigner Alexei Navalny.
Police soon detained Navalny  at the demonstration. Video showed officers struggling with the opposition leader in Pushkin Square and then carrying him by the legs and arms.
Analysis

How British MPs are tackling Russia's war on perception
The unauthorized protest was part of a day of nationwide demonstrations, held to denounce Putin's upcoming inauguration for a fourth term as president. ​Putin will be inaugurated Monday for a six-year term.
A group that monitors political repression in Russia says more than 350 people were arrested during the protests.
The OVD-Info group said the largest number of arrests was in Chelyabinsk, where 97 people were detained. It said that during a protest in Yakutsk in the far northeast, 75 were detained but all have since been released.
More than 50 were reported arrested in Moscow's Pushkin Square.