Hawaii's erupting Kilauea volcano belches another plume of ash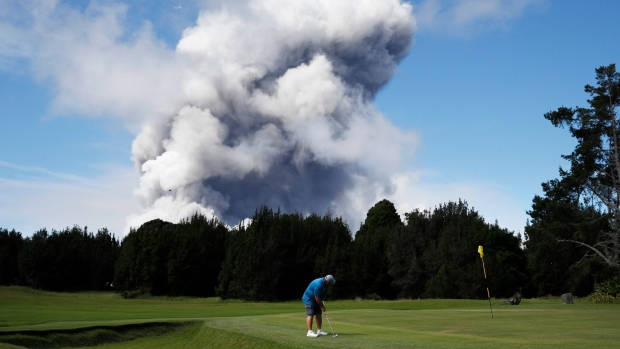 An explosive eruption at Hawaii's Kīlauea volcano has sent a plume of ash 4,500 metres into the air, the U.S. Geological Survey said early Monday.
The plume was "largely vertical with slight northwest drift," the agency said on Twitter, and people in the area "may experience ash fall" as a result.
The explosive eruption came hours after Hawaii County officials knocked on doors on several streets in the Leilani Estates subdivision alerting residents to flee fast-moving lava from the nearby volcano.
Evacuation orders were issued Monday evening for anyone in the area east of Pomaikai Street to avoid being isolated by the flow.
The Pacific Tsunami Warning Centre on Oahu said a 4.4 magnitude earthquake shook the Hilina region of the volcano, southwest of the estates, on Monday. Officials said it wasn't strong enough to generate a tsunami.
Lava has oozed over two wells at the Puna geothermal power plant, but county officials said the flow stopped. Officials said there was no release of any dangerous hydrogen sulfide gas after lava crept over the plugged wells.
As of Friday, lava had destroyed 82 structures, including 37 homes.