Hands-on science hits the streets Saturday with Science Rendezvous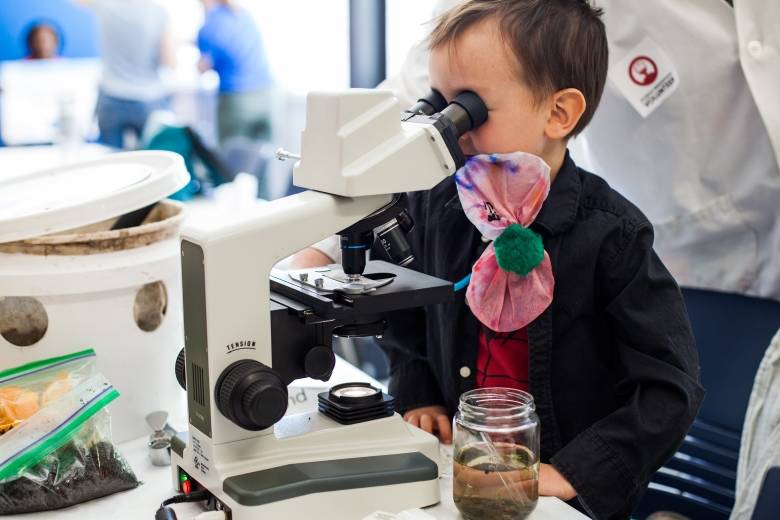 All across the country, from Nunavut to British Columbia to Newfoundland, people are invited to participate in hands-on science during this year's Science Rendezvous taking place this weekend.
The annual events are held at locations — primarily universities — across Canada as part of Science Odyssey, a celebration of science by the Natural Sciences, Engineering Research Council of Canada. This year it runs from May 11 to May 20.
Science Rendezvous kicks it off on Saturday, inviting people young and old for a day-long celebration of hands-on science.
"The goal ultimately is to really increase the public's awareness and involvement with actual science," Kathleen Miller, executive director of Science Rendezvous, told CBC News. "Science isn't just a thing; science is the process of finding truth.
"Science is truly involved in everything."
Kids will get a chance to see things in ways they hadn't before at the event with 300 locations in 30 cities and towns. (Science Rendezvous)
But that's not the only goal: Miller said that in addition to demystifying the science behind the scientific process, the organizers also want to encourage children to pursue science, technology, engineering and mathematics (STEM), as well as help scientists become better communicators.
And while cities like Vancouver, Calgary, Toronto and Montreal will be participating, it's not all about the big metropolises.
A stop at the Toronto Zoo scavenger hunt with a scientist from education organization Let's Talk Science and the University of Toronto Scarborough. ( University of Toronto Scarborough/Science Rendezvous)
One of the most successful is in Inuvik, NT, a town with a population of just 3,200.
The events include arts and crafts, telecommunications, coding and even robots. It's hosted by the Aurora Research Institute, and attracts 10 per cent of the town's population — a big success for a small town.
And in Langley, B.C., Kwantlen Polytechnic University will host interactive science labs, dancing fire and even a high-tech nursing laboratory.
Kids and adults alike will be able to get their hands dirty in horticultural displays, learn about their anatomy, pet stick bugs, and yes, even cheer on their favourite cockroach in the most popular event: the cockroach race.
"It's about being able to inspire young kids and plant that seed for the love of science," said DeAnn Bremner from the university's faculty of science and horticulture, an organizer for Science Rendezvous. "It's about making science fun and accessible."
Chemistry magic shows, mutant flies and more
Last year, more than 210,000 people attended events across almost 300 sites in 30 cities and towns.
This year, Science Rendezvous has challenged its host venues to include art as part of STEM (making it STEAM). Included will be things such as the physics of music, magic shows that will involve the theatre arts departments and many other collaborations.
So what can you expect?
Well, there are three venues in B.C., which, in addition to Kwantlen Polytechnic University, include Simon Fraser University, and the University of British Columbia — where you can experience the Super Science Game Show, Chemistry Magic display, ride a hovercraft, build a kaleidoscope and learn how volcanoes helped form the Earth we walk on.
In Ontario, there are 10 venues, including Ryerson University and the University of Toronto, where the streets will be closed off for a big celebration of science.
You can get your feet dirty while exploring a non-Newtonian fluid, a fluid that can behave like a liquid, but that changes to a solid when force is applied. (Science Rendezvous)
The University of Toronto has two locations, one right in the heart of the city and one at the Toronto Zoo.
Downtown, you can learn about mutant flies and glowing bacteria; you can walk through a scale model of the solar system, look through a solar telescope at the sun and even create art using math.
Queen's University in Kingston will host a chemistry magic show, and invites participants to explore space in a planetarium.
There are events in every province and two territories. You can find out if your city is hosting an event and what's on by visiting the Science Rendezvous website.