Guests arriving at Windsor Castle for royal wedding of Prince Harry and Meghan Markle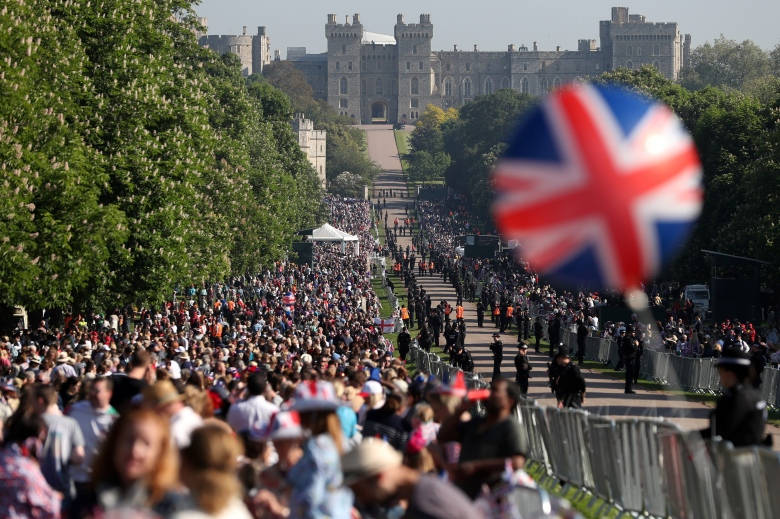 The weather is sunny and warm as guests have started to arrive at Windsor Castle and crowds are gathering in hopes they will catch a glimpse of Prince Harry and Meghan Markle on their wedding day.
Live coverage has begun on CBCNews.ca and will continue through the big event at 7 a.m. ET and afterward.
Harry, 33, and Markle, 36, will tie the knot at St. George's Chapel, where around 600 guests are expected to attend.
After the ceremony, the pair will take a horse-drawn carriage tour through Windsor, where huge crowds of people will get a glimpse of the newlyweds.
Well-wishers line the Long Walk leading to Windsor Castle ahead of the wedding and carriage procession of Britain's Prince Harry and Meghan Markle on Saturday. (Daniel Leal-Olivas/AFP/Getty Images)
The marriage between Harry, who is sixth in line to the throne, and Meghan, an American actor who lived for years in Toronto, has drawn intense interest worldwide.
The two will be given the titles of Duke and Duchess of Sussex.
Prince Harry and Ms. Meghan Markle: Titles Announcement <a href="https://twitter.com/hashtag/RoyalWedding?src=hash&amp;ref_src=twsrc%5Etfw">#RoyalWedding</a> <a href="https://t.co/wyl0J7eW0g">https://t.co/wyl0J7eW0g</a>

&mdash;@RoyalFamily
The excitement has been building for weeks and hundreds of people camped out overnight to get a prime spot outside for the newlyweds' horse-drawn carriage near Windsor Castle after the ceremony.
"I woke up wet, and I'm freezing cold, my back is sore, and I just want to go to bed," said Bernadette Christie, a Canadian from Grand Prairie, Alberta.
"I'm here for that 10 seconds when that coach goes around the corner," she said. "It'll be well worth it."
Farkahanda Ahmed came with her mother and a friend from Slough, a few miles from Windsor, arriving at 4 a.m. to get a good spot. The trio wore Union Jack hijabs in honour of the occasion.
"It's a proud moment for us — times are changing," Ahmed said. "Who would have thought a Hollywood actress would become a British princess?
"We are proud to be British and we wanted to come here and show our support."
The biggest wedding of the year is happening right here <a href="https://twitter.com/hashtag/RoyalWedding2018?src=hash&amp;ref_src=twsrc%5Etfw">#RoyalWedding2018</a> <a href="https://twitter.com/hashtag/HarryandMeghan?src=hash&amp;ref_src=twsrc%5Etfw">#HarryandMeghan</a> <a href="https://twitter.com/hashtag/WindsorCastle?src=hash&amp;ref_src=twsrc%5Etfw">#WindsorCastle</a> <a href="https://t.co/I5R38ysbFL">pic.twitter.com/I5R38ysbFL</a>

&mdash;@cbchh
Harry's father, Prince Charles, will play a major role in the ceremony.
Kensington Palace said Friday that Charles will be part of Meghan's trip down the aisle after it was announced her own father would not be able to attend because of his health.
Archbishop of Canterbury Justin Welby, who will conduct the wedding ceremony, said Charles is "a very warm person and that he's doing this is a sign of his love and concern and support. And I think it's wonderful. It's beautiful."
Markle will not have a maid of honour, but there will be 10 young bridesmaids and page boys, including four-year-old Prince George and three-year-old Princess Charlotte, the elder children of William and his wife, Kate.
The couple's big day will differ from previous royal affairs in many ways, as CBC's Janet Davison has explained, including the smaller scale and a guest list that leaves off the high-profile politicians seen at so many royal weddings.
And of course, there's the now famous organic lemon elderflower cake from a hip London bakeshop.
Master baker Claire Ptak said the cake will have an "ethereal" taste and be presented in a non-traditional way.
Two mounted police officers patrolled the area as royal fans took their positions on the Long Walk, near Windsor Castle, on Friday. (Leon Neal/Getty Images)
The high-profile party also comes with a sprawling security operation. Barricades are in place to deter an attack using vehicles, such as the one on Westminster Bridge in London last year. Sniffer dogs and mounted patrols are also out and about.
The wedding is undoubtedly going to be a costly affair, but the exact bill is far from clear. Kensington Palace said the Royal Family will pay for the wedding but hasn't revealed details.
Britain's Home Office has also been quiet about costs. When asked by the BBC about security costs, it declined to comment, citing "national security."
Check out the procession route the newlyweds will take after the ceremony.