Floods, wildfires spark evacuation concerns from some northern Albertans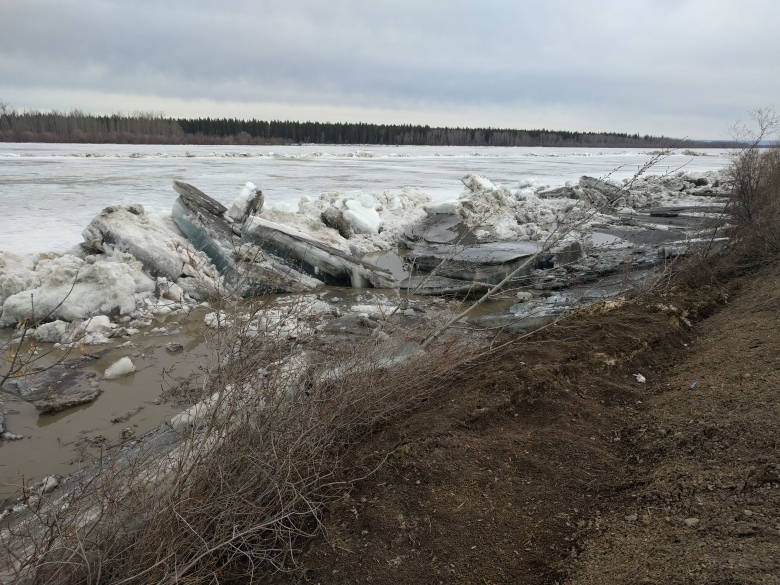 After a spring of flooding followed by wildfires, some residents of Mackenzie County are concerned about their ability to quickly evacuate in the event of a major emergency.
Nine wildfires burning in the High Level forest area Saturday prompted the most recent emergency alert for Mackenzie County, an area of northern Alberta larger than Prince Edward Island. The wildfires temporarily closed Highways 58 and 35, and some residents were on standby for a possible evacuation.
The wildfires were brought under control Sunday and the local state of emergency was cancelled.
But for residents, it's all too close on the heels of major flooding in the area just two weekends earlier, which also prompted emergency alerts, evacuations and closed roads.
Ice jams on the Peace River near Fort Vermilion in late April were responsible for flooding in Mackenzie County. (Ari/CanWestAir)
Grace Alarcon-Isla lived in Rainbow Lake for 10 years before moving to Edmonton two years ago. Her husband still works in the town of around 800 people.
Rainbow Lake, a town of about 800, is located about 140 kilometres west of High Level, near where Highway 58 ends in muskeg near the B.C. border. The town is surrounded by dense boreal forest.
Alarcon-Isla says she's concerned about how residents would get out quickly in the event of a major wildfire.
"We only have literally one highway out. There's no other highway to get in and out," she said.
"With the Fort McMurray fire, it was like an eye-opener for everybody. If it were to happen to Rainbow Lake it would be very, very, very difficult to evacuate."
She believes that evacuation by air would be the only recourse for residents.
With the Fort McMurray fire, it was like an eye-opener for everybody. If it were to happen to Rainbow Lake it would be very, very, very difficult to evacuate.– Grace Alarcon-Isla
Alarcon-Isla said residents know to always have a bag packed in case an emergency forces them to leave.
Windy weather makes people nervous, she says, because wind fuels fire.
Mackenzie County Reeve Peter Braun said 50 km/h winds posed a problem Saturday as emergency crews fought the wildfires in temperatures that went up to 25 C.
At least two houses were lost in the wildfires, he said. Because all available fire crews and local farmers were dealing with the wildfires, a local state of emergency was declared in case provincial assistance was needed.
Officials do their best to prepare Mackenzie County residents for wildfire season, Braun said. But in the event of a massive evacuation, he couldn't immediately say how the county would direct it.
"We would do our best, but how would it go over? That would be a challenge, definitely," he said.
The High Level area has already had 56 wildfires this year, according to Alberta Wildfire. As of May 13, 42 of them have been extinguished. Fourteen are still active, the most of anywhere in the province.
'I've never been worried up until yesterday'
Heather Kazonay lives on the Beaver First Nation, around 40 kilometres east of High Level along Highway 58.
On Saturday, she saw water bombers passing overhead every couple of minutes. With Highway 58 closed for part of the day, the main access road to the community of about 1,000 was impassable.
Early Sunday morning, a fire started in the community and almost took down a house, she said.
She said she's thankful for the firefighters who got the fires under control, but it got her thinking about the possibility of a bigger wildfire.
"Yesterday, the winds were so bad and winds were shifting. If something were to ever happen I think a lot of people would be stuck and stranded," she said.
"I've never been worried up until yesterday. Just because it was so close and there were nine fires around the area yesterday."