Edmontonians urged to be wary of coyotes after 'aggressive' encounters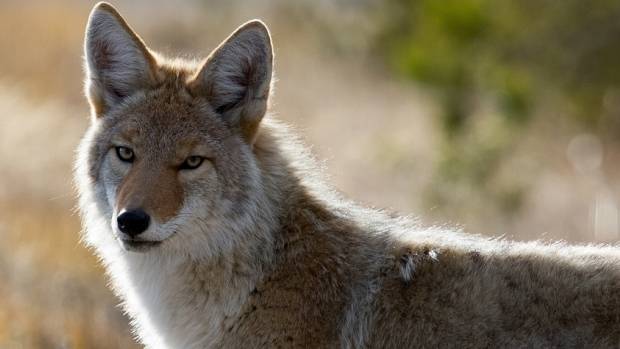 A string of recent coyote encounters in Edmonton should serve as a reminder to respect the wild animals, cautions an Alberta conservation biologist.
While there is no data to suggest the local coyote population has grown significantly, there has been a recent spike in sightings, said Colleen Cassady St. Clair, a University of Alberta biologist with the faculty of science.
"It seems like there have been quite a few aggressive encounters with coyotes this spring," Cassady St. Clair said in an interview with CBC Edmonton's Radio Active.
"There might be a bit of an upswing."
The city's urban coyote population is thriving and Edmontonians need to exercise caution around the scavengers, said Cassady St. Clair. She estimates there are between 500 and 1,000 of the animals prowling through the river valley.
While the animals are naturally afraid of humans and attacks are rare, urban packs can become accustomed to human activity.
In February, an Edmonton woman's 50-kilogram Bernese mountain dog was attacked and killed by coyotes.
A week later, wildlife officers launched an investigation after receiving reports that a woman was feeding meat to coyotes a few hundreds metres from where the dog was killed, in a city ravine.
Another dog was attacked in the same area a week later, Cassady St. Clair said.
"It's very rare for a dog that large to be attacked and killed by coyotes," she said. "That is just a little bit of a reminder to people to leash their dogs, especially in areas where coyotes might perceive that [they're in] a really high-quality territory."
Another bold encounter was captured on video by Edmonton's Chris Horvath.
Posted to Facebook on Tuesday, the short clip shows a dog wading in a creek in a city ravine being stalked by a coyote that emerges from the bush. Both animals lunge at each other several times before the dog chases the coyote off into the woods.
Never let your pets roam free, said Cassady St. Clair. Coyotes are territorial. A large dog may be seen as a territorial threat, a small animal as prey.
Coyotes are opportunistic, and food can also draw them out of the wilderness. All garbage should be carefully stored.
Wild animals that become habituated to human food can become bold and dangerous.
'Act aggressively'
Anyone who sees a coyote is encouraged to report the sighting to the Edmonton Urban Coyote Project. It's a long-term study being conducted by Cassady St. Clair, who works with other researchers and the city to learn more about urban coyotes.
People who encounter a coyote should make plenty of noise and commotion if the animal comes too close for comfort, she said.
"Act aggressively toward them," Cassady St. Clair said. "You can increase the likelihood that coyotes can exist alongside people in the city by teaching coyotes, at every opportunity, that people are bigger and meaner than they are."
"By acting aggressively toward coyotes and sending them scampering, the next person is less likely to be approached."