Edmonton-area mayors push for Trans Mountain expansion project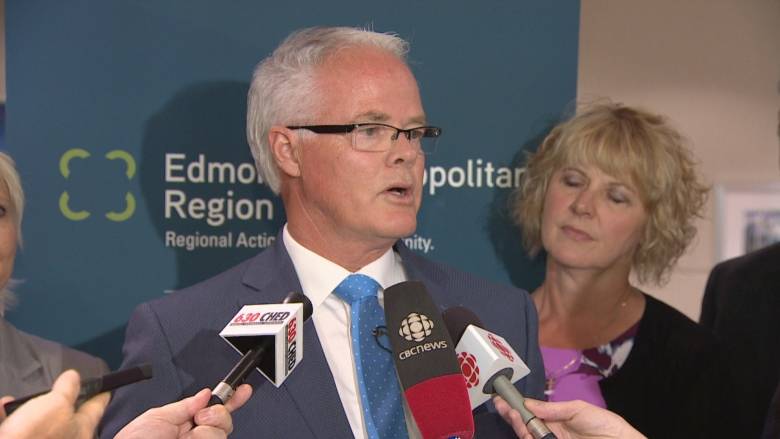 Political leaders from the greater Edmonton region are pushing for consensus on the Trans Mountain pipeline expansion, ahead of a national convention of municipal leaders in Halifax this weekend.
Mayors and members of the Edmonton Metropolitan Regional Board made the collective statement at Edmonton City Hall on Monday, urging provincial and federal governments to agree to back the contentious project.
The project, approved in 2016 by the federal government, has been blocked for months by the B.C. government. The company behind the proposed expansion, Kinder Morgan Canada, last month issued an ultimatum, saying it needed to see a clear path forward for the $7.4-billion project by May 31 or it would walk away from construction.
Stuart Houston, the mayor of Spruce Grove, said the leaders felt a "special responsibility" to speak out before that deadline and the Federation of Canadian Municipalities meeting in Halifax.
"We're at a crossroads in this country," he told media. "To get a fair price for our oil, it's absolutely critical that the capital region steps up like other municipalities have done, in support of this."
Stuart Houston, mayor of Spruce Grove, said 13 surrounding municipalities are asking the provincial and federal governments to push the pipeline through. (CBC)
Houston said the mayors were banding together to encourage the provincial and federal governments to "use their ancillary powers to push this pipeline through."
"The Kinder Morgan pipeline is an absolutely ​critical piece of infrastructure that's going to be a tremendous benefit to Canada."
He said the FCM convention, which about 1,100 delegates are expected to attend, will be an ideal time to gather support.
Mayors from surrounding jurisdictions, including the City of Leduc, Fort Saskatchewan, Leduc County, St. Albert, Parkland County and Strathcona County, stood behind Houston as he spoke with media.
Edmonton Mayor Don Iveson was present for the announcement but left the statement to Houston. The collective push comes a few days after Iveson said the city can't rely strictly on oil and gas, including the Trans Mountain pipeline, for its economic future.
Kinder Morgan's pipeline expansion project has been a battleground for Alberta and B.C. for months, since B.C. Premier John Horgan announced he wouldn't support the pipeline.
The proposed pipeline would nearly triple the amount of crude oil, semi-refined and refined products carried from Edmonton to Burnaby, B.C.
The Alberta legislature passed a bill on May 16, commonly referred to as the "turn-off-the-taps" legislation, which would ultimately allow the province to cut off gas shipments to B.C. The bill has not been proclaimed into law.
In early April, Kinder Morgan announced it was suspending non-essential activities and related spending for the Trans Mountain pipeline expansion.
Federal finance Minister Bill Morneau is expected to make an announcement Wednesday about the project.