Clare Drake was 'ahead of his time,' friend and former Golden Bears coach says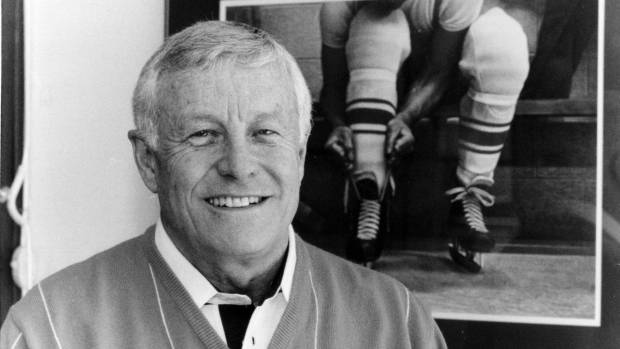 A friend and former colleague remembers Clare Drake as a "quiet genius" whose modern coaching style emphasized attention to detail, speed and tactics.
Drake, a longtime coach for the University of Alberta's men's hockey team, died Sunday morning in his sleep at 89.
Fellow former Golden Bears coach Billy Moores, now a director of coaching development and special projects for the Edmonton Oilers, knew Drake for half a century.
The pair coached for the U of A and drank rye-and-Cokes together many times over the years, Moores said.
"Clare was a long ways ahead of his time," Moores said Monday on CBC Radio's Edmonton AM.
Drake taught his athletes the science of hockey, emphasizing tactics, speed and co-ordination between players, he said.
Those skills are hallmarks of modern hockey, but they "weren't necessarily accepted at the time," Moores said.
[embedded content]
Drake was inducted into the Hockey Hall of Fame in November as a builder.
He was known as a hockey coach, but he also led the university's football team to a national championship in 1967. His hockey team won the national title too that year.
It is hard to find a corner of the hockey world that hasn't been touched by the influence of Clare Drake. Through his innovative thinking, generosity and passion for teaching, Coach Drake has forever changed the game of hockey and the athletes he coached. <a href="https://t.co/xCGu9P0RRp">pic.twitter.com/xCGu9P0RRp</a>

&mdash;@VimyEdmonton
A respected educator
Ian Reade, the U of A's director of athletics, said Drake was seen as more than a hockey coach at the school.
"More than wins and losses, he was more about education," Reade told CBC Monday.
Reade's time at the school did not overlap with Drake's, but the athletics director said a reverence for him remained long after he left.
His success (a .695 winning percentage with the Golden Bears) inspired others to study his methods. Howie Draper, head coach of the U of A women's hockey team, wrote his 2013 master's thesis on his former coach.
"His players were motivated by his understated optimism, clear identification of expectations and the high standard that he held them to," he wrote.
Humility was a key theme that came out of his research. In interviews with former players, captains and coaches, Drake emerged as someone who deflected praise, admitted his personal limitations and didn't display a large ego.
The legendary Clare Drake coached <a href="https://twitter.com/GoTeamAB?ref_src=twsrc%5Etfw">@GoTeamAB</a>'s 🥇 winning team at the 1967 <a href="https://twitter.com/hashtag/CanadaGames?src=hash&amp;ref_src=twsrc%5Etfw">#CanadaGames</a>, the very first Canada Winter Games. He went on to help shape the lives of countless individuals. Thank you for your immense contributions to 🇨🇦 sport, Coach. <a href="https://t.co/UqiWfVfmGf">pic.twitter.com/UqiWfVfmGf</a>

&mdash;@CanadaGames
Moores called Drake "a quiet genius" who didn't have to raise his voice to be heard.
"He didn't have to let everybody in the room know that he was probably the smartest guy," he said.