Canadian retail sales rose in March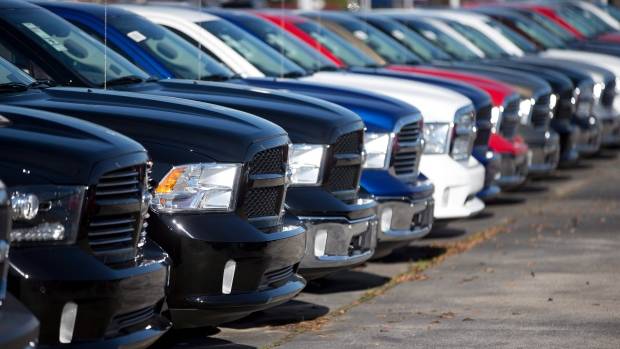 A rise in sales at motor vehicle and parts dealers in March helped push overall Canadian retail activity higher for a third consecutive month, Statistics Canada reported Friday.
Retail sales, which are a key contributor to Canadian gross domestic product, rose 0.6 per cent in March to $50.2 billion.
Higher sales in the automotive sector outweighed lower sales at food and beverage stores and gasoline stations, according to Statistics Canada. If sales at motor vehicle and parts dealers were factored out, retail sales were down 0.2 per cent for the month.
The rise wasn't just because of higher prices either — retail sales in volume terms increased 0.8 per cent for the month.
"With a healthy gain in volumes, today's report painted a relatively upbeat picture of retail activity in March," TD economist Rishi Sondhi said in a commentary.
"For the first quarter overall, volumes were down one per cent, pointing to slower consumer spending. However, momentum improved as the quarter progressed which is a positive signal for near-term activity and supports our view that growth improved to an above-trend pace in the second quarter.
Sales were up three per cent in March for motor vehicles and parts dealers, which new car dealers accounting for the majority of the overall gain as they saw sales rise 3.3 per cent in the month.
Also seeing gains were sales at clothing and accessories stores, up 2.5 per cent, and general merchandise stores, where sales rose one per cent.
Sales were down by 1.2 per cent for food and beverage stores, and down by 1.9 per cent at gas stations.
July rate hike seen
Sondhi said healthy job markets and solid income gains should keep consumers spending at "a decent clip" this year, despite weaker housing market activity, rising interest rates and higher gasoline prices.
TD said the March retail report leave GDP growth coming in at a 1.8 per cent annualized first quarter increase, which is above the Bank of Canada's first quarter estimate of 1.3 per cent.
Sondhi said the Bank of Canada is still expected to "maintain a gradual approach to rate normalization in the face of continued domestic and external risks to the outlook, with the next hike anticipated in July."
BMO senior economist Sal Guatieri also said he sees the Canadian central bank staying on the sidelines until July "biding time to gain insight on the direction of NAFTA talks and the impact of tougher mortgage rules on the housing market."
In a commentary, Guatieri said BMO sees consumer spending slowing this year from last year's pace.
"After surging 3.5 per cent in 2017, we look for around 2.5 per cent spending growth this year and a sub-two per cent pace next year, as rising interest rates, slowing credit and employment growth, and a cooler housing market apply a gentle brake, offset somewhat by rising wages," he said.