Basque militant group ETA says it has 'completely dissolved'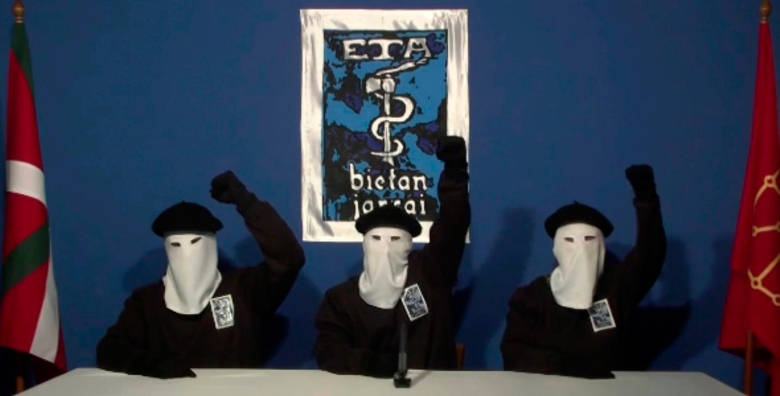 The Basque militant group ETA is announcing that it has "completely dissolved all its structures," in a letter sent to Basque institutions and civil society groups.
In the letter dated April 16 but only made public on Wednesday in the Spanish online newspaper eldiario.es, ETA says it acknowledges its responsibility in failing to solve the Basque "political conflict."
ETA, whose initials stand for "Euskadi ta Askatasuna" — or "Basque Homeland and Freedom" — killed 853 people in its armed campaign to create an independent Basque state in northern Spain and southern France.
Responding to the announcement, Spanish Interior Minister Juan Ignacio Zoido vowed to keep investigating unresolved crimes attributed to ETA. He said police will "continue to pursue the terrorists, wherever they may be."
"ETA obtained nothing through its promise to stop killing, and it will obtain nothing by announcing what they call dissolution," he told reporters.
Masked members of the Basque separatist group ETA raise their fists in unison following a news conference at an undisclosed location, in a file image made from video provided on Oct. 20, 2011. (Gara via Associated Press)
The decision to dissolve, ETA said in the letter, "doesn't overcome the conflict that the Basque Country maintains with Spain and with France."
"The Basque Country is now before a new opportunity to finally close the conflict and build a collective future," the organization says. "Let's not repeat the errors, let's not allow for problems to rot."
It wasn't immediately clear why the letter had been dated two weeks earlier.
A municipal worker paints over graffiti reading 'ETA, The People Are With You' in Guernica, Spain, on Oct. 21, 2011, the day after Basque separatist group ETA announced a definitive cessation of armed activity. (Vincent West/Reuters)
Founded in the midst of Gen. Francisco Franco's regime, the group grabbed global headlines when it killed the dictator's anointed successor, prime minister Luis Carrero Blanco, in 1973.
The ETA became bloodiest as Spain transitioned from dictatorship to democracy in the early 1980s, targeting not only members of the military and police forces but also politicians, entrepreneurs, civilians and some of its own, repentant militants who wanted to leave the group.
At least 60 other people were also killed at the hands of death squads set up by members of Spain's security forces.