B.C. premier says pipeline decision 'does not change my concerns'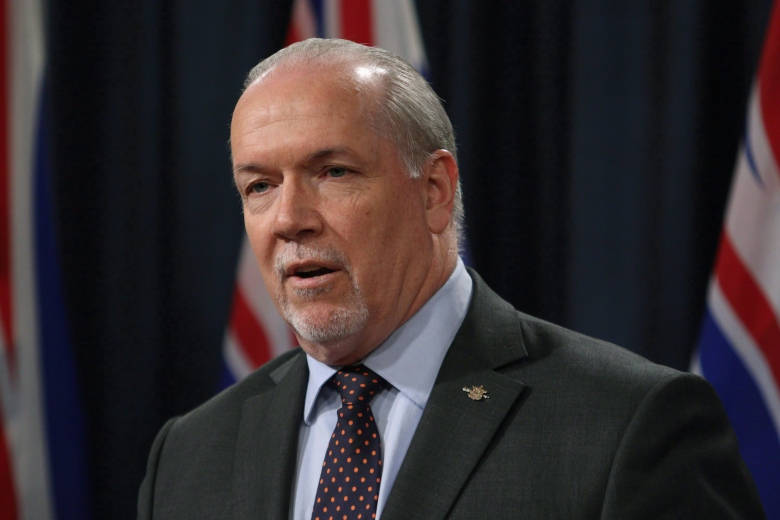 B.C. Premier John Horgan says the Trudeau government's decision to buy the Trans Mountain pipeline project for $4.5 from Kinder Morgan does not change his concerns about the project's risks.
Horgan said he learned of the decision early Tuesday morning when Prime Minister Justin Trudeau called him minutes before the announcement in Ottawa.
"I said to the prime minister that ownership of the project doesn't change my concerns," Horgan told CBC Radio on Tuesday morning.
"I continue to have concerns about the potential adverse consequences of a diluted bitumen spill on our marine environment, on our coast and the consequences to our economy," he said.
B.C. Premier John Horgan says the federal decision to buy the Trans Mountain pipeline project does not change his concerns about its risks. (Chad Hipolito/The Canadian Press)
Horgan noted, however, that he thinks it will be easier to have his concerns about the project addressed.
"The good news though is that I now know the owner and have his phone number and I can call him with my concerns."
Wilkinson blames 'Horgan's historic blunder'
B.C. Liberal Leader Andrew Wilkinson blames Horgan for forcing the federal government to make a questionable decision.
"This unprecedented action taken by the federal government is entirely a consequence of the actions of John Horgan," Wilkinson said in statement on Tuesday morning.
"This is a critical project that should have been built and owned by the private sector. Now, British Columbians and Canadians are left paying for Horgan's historic blunder."
B.C. Liberal leader Andrew Wilkinson blames Horgan's 'historic blunder' for the federal Liberal's decision to buy the pipeline. (Tina Lovgreen/CBC News)
"John Horgan picked a fight with Alberta and provoked a constitutional crisis with Ottawa over this project and this is now the embarrassing result," he said.
"The lack of leadership on this issue is now fully evident. Horgan and the NDP continue to play politics with British Columbia's future, and this time it will cost us billions."
Opposition in B.C. likely to continue
Horgan said the federal decision will not change his plans to contest the exclusive federal jurisdiction surrounding the project in court.
"The reference case will go forward unless I hear something different today [Tuesday]," said Horgan, who does not expect protests against the pipeline to end.
Protesters camped out at the construction site also voiced their intention to continue to fight the project.
Cedar George-Parker addresses protesters against the Kinder Morgan Trans Mountain pipeline as they block an entrance to the company's property in Burnaby on April 7. (Darryl Dyck/Canadian Press)
"This is the moment in history where Justin Trudeau has revealed that he never cared about Indigenous rights or reconciliation," said Will George, Tsleil-Waututh member and spokesperson for the Coast Salish Watch House.
"The cost that they did not calculate in their $4.5 billion purchase is that Indigenous front lines will stop this pipeline."
Feds announce plans to buy pipeline
Finance Minister Bill Morneau announced details of the multi-billion-dollar deal reached with Kinder Morgan at a news conference with Natural Resources Minister Jim Carr Tuesday morning in Ottawa.
The federal government will buy the Trans Mountain pipeline and infrastructure related to the expansion for $4.5 billion to ensure the controversial project proceeds.
"Make no mistake, this is an investment in Canada's future," Morneau said.
He said the government does not intend to be a long-term owner, and at the appropriate time, the government will work with investors to transfer the project and related assets to a new owner or owners. Investors such as Indigenous groups and pension funds have already expressed interest, he said.
Until then, it will proceed under the ownership of a Crown corporation. The agreement is expected to close in August.
Business case questioned
Politicial scientist Hamish Telford questioned the business case behind the federal move.
"I think the business case for the project has deteriorated to the point where Kinder Morgan was no longer willing to assume the risk for it. Now the federal government is taking on that risk on behalf of the taxpayers," said Telford.
"If this was a slam dunk business decision, Kinder Morgan would have stuck with it."
Federal Green Party MP Elizabeth May echoed those concerns.
Green Party Leader Elizabeth May was arrested earlier this year at a protest against Kinder Morgan's Trans Mountain pipeline expansion project. (Rafferty Baker/CBC)
"None of the other problems with this project have gone away. Nothing has changed except that Kinder Morgan is laughing all the way to the bank," said May, who was recently fined $1,500 for her arrest protesting the project in Burnaby.
"The amount we've just spent is more than we are putting into climate programs so far… I have to say that it's galling on so many levels that it's breathtaking."
The twinning of the 1,150 kilometre-long Trans Mountain pipeline will nearly triple its capacity to an estimated 890,000 barrels a day. (CBC News)