Annual Transplant Trot raises awareness of urgency for organ donors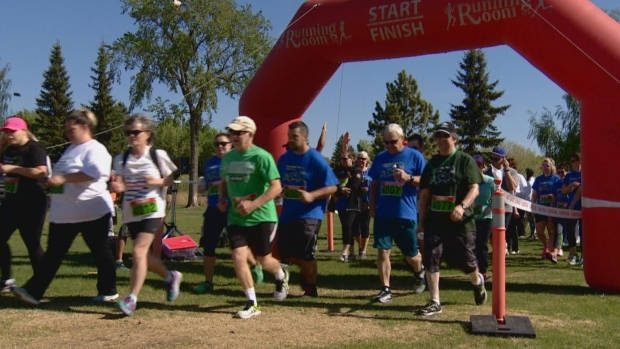 Around 150 people raced through Rundle Park on Saturday to highlight the need for organ and tissue donors in Canada.
Runners and walkers took part in the annual Transplant Trot, which celebrates organ and tissue recipients and raises money for the Canadian Transplant Association.
Donor rates hit a record high in Alberta in 2017 and spiked again in April after the Humboldt Broncos bus crash. But race director Michael Cunningham said Albertans still have work to do when it comes to organ and tissue donation.
"Last I heard, we were still trailing most of the county as far as percentage of people in the province donating," he said. "We had a big surge recently … but I don't think that's going to be sustainable."
More than 4,500 Canadians are on the waiting list for a transplant, including about 700 Albertans, according to the Alberta Health Services website. People who want to help them can register to become a donor, Cunningham said.
Anyone who wants to become an organ donor can register online, but Cunningham stressed the need for potential donors to discuss their decision with loved ones first.
"Talk to your family, because they have the final say," he said. "Even if you register in full, it's AHS policy to ask the family first."