Alberta premier responds to Ottawa's pending pipeline purchase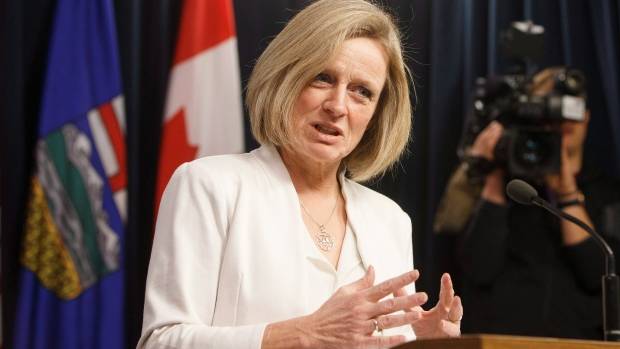 Alberta Premier Rachel Notley is holding a news conference in response to the federal government's announcement it will purchase the Trans Mountain Pipeline.
Notley is scheduled to speak to reporters inside the plaza of Edmonton's federal building. CBC News will livestream the news conference, which is set to begin at 10 a.m. MT.
The Liberal government announced Tuesday it will buy out the Kinder Morgan pipeline and its related infrastructure for $4.5 billion.
Finance Minister Bill Morneau made the announcement at a news conference with Natural Resources Minister Jim Carr, days before a drop-dead date set by Kinder Morgan.
Morneau said the government does not intend to be a long-term owner and, at the appropriate time, the government will work with investors to transfer the project and related assets to a new owner or owners.
"I have a set of mixed emotions about this," said Dennis McConaghy, former executive vice president at TransCanada PipeLines Ltd.
Government doesn't plan to be long-term owner
It's a "bittersweet moment" that the federal government was required to take out a private sector company to salvage a project, said McConaghy on CBC Radio's Edmonton AM Tuesday.
He described the purchase as an "enormous" intervention on the part of the federal government to get the project done.
The move is "fundamentally positive for Alberta's overall interests," he added.
The key short term issue is when construction will resume, and in the long term there are questions around the details of how the transaction will unfold, he said.
He doesn't expect any third parties to step in by purchasing the project before it's completed. It makes more sense to let the government take on all the completion risk, he said.
"I think most private owners are going to be happy to buy this thing once it's been built," McConaghy said.
Ottawa is expected to funnel billions of dollars into the controversial pipeline expansion, which has an overall estimated price tag of $7.4 billion.
Kinder Morgan issued an ultimatum to the federal government, threatening to abandon the project completely if a clear path forward for pipeline construction wasn't found by May 31.