2 homes gutted by fire in southwest Edmonton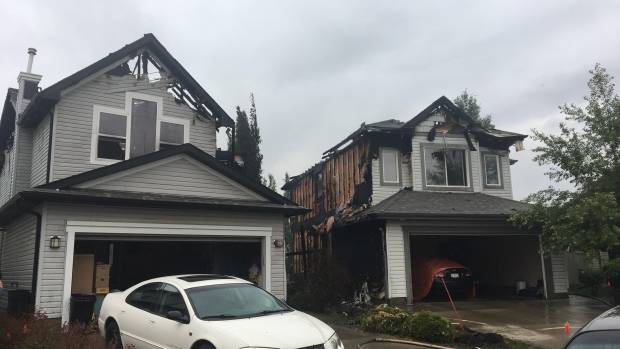 The cause of a fire which engulfed two homes and damaged three more in southwest Edmonton early Wednesday morning remains under investigation.
Edmonton Fire Rescue crews were called around 2:30 a.m. to respond to a fire involving two homes in the MacEwan neighbourhood.
In the first house, five people were home when the fire broke out. Three of the occupants were assessed by paramedics on scene. In the second house, one person was home when the fire broke out but escaped without injury.
No one was taken to hospital, said Maya Filipovic, a spokesperson for Edmonton Fire Rescue.
The fire was brought under control shortly before 4 a.m.
The homes, both in Melrose Crescent, were seriously damaged in the fire, Filipovic said. Heavy equipment will be brought in late Wednesday morning to demolish the most heavily damaged property.
Three neighbouring properties also sustained heat damage in the fire, Filipovic said.
Fire investigators remained on scene Wednesday morning.