Allison Janney Celebrates Her Oscar Win With Three Shirtless Hunks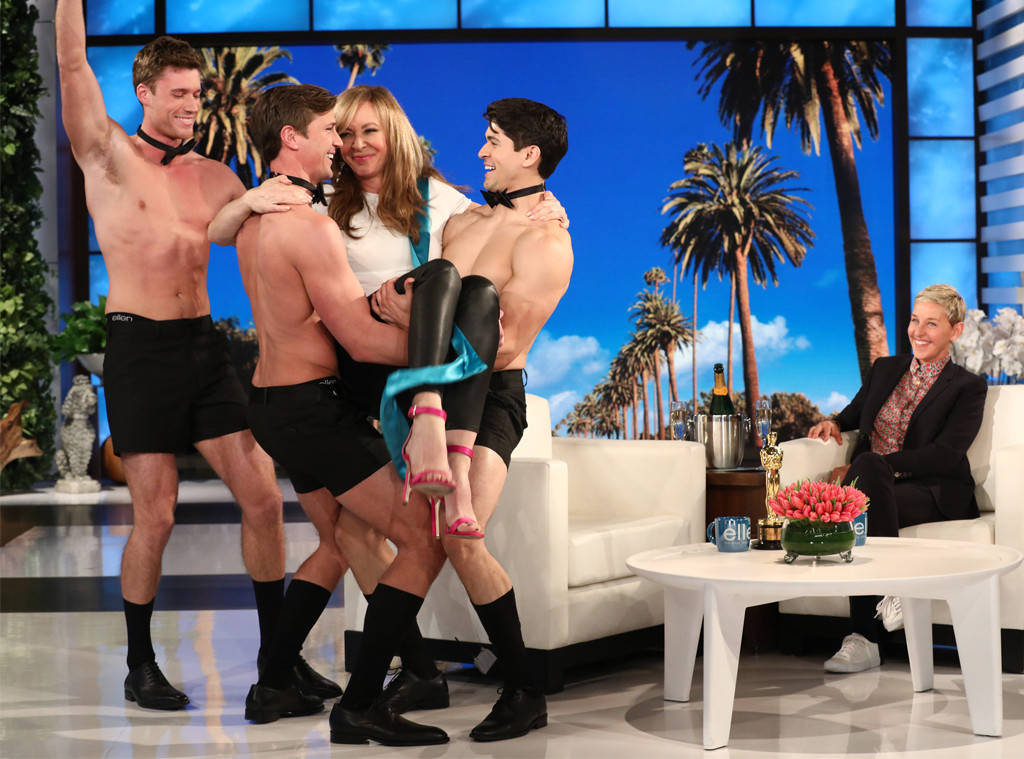 Better late than never!
After Allison Janney won an Oscar for her role as parrot-loving hard-as-nails mom LaVona Harding in I, Tonya earlier this month, she didn't get to have quite the wild celebration she may have liked to and that's because she had to be on set of her hit sitcom Mom for a table-read the very next morning. But there's always time for a do-over!
During an appearance on Monday's episode of The Ellen DeGeneres Show, her pal Ellen DeGeneres gives the comedy queen a celebration she isn't quite expecting—a sexy dance from three shirtless, tiny short-wearing studs. 
Allison may not expected the onslaught of sexy dancers, but she certainly made it work, getting the trio of topless gentleman to pick her up. 
Michael Rozman/Warner Bros.
In the sit-down with the recent Academy Award winner, Allison also discussed the rigor of "award season."
Before the Oscars, Allison had already nabbed 30 awards, including an Independent Spirit Award, a Golden Globe and a SAG Award, for her role in I, Tonya, but she said all the accolades only made her nerves more intense at the 90th Annual Academy Awards.
"It made me more nervous," confessed the Mom actress. "The more awards I won the more i was sure the next thing I was sure I wasn't going to."
But win she did! During her chat with Ellen, she also discussed her game-time decision to open her Academy Awards speech by saying, "I did it all myself!"
Prior to the win, Allison stopped by Life From the Red Carpet and talked to Ryan Seacrest, saying, "I'm pretty overwhelmed. This is my first time here at the Oscars and I came with Steven Rodgers who is the reason I'm standing here today and we had a pretty special morning together just thinking how much history we're bringing on this carpet, just our history alone. It's a very exciting moment."
When asked how she prepared for her role as ice skater Tonya Harding's mother, Allison shared with Ryan, "I had a little bit of existing footage on LaVona that I just watched over and over again because that was my job was to bring this woman to life. I knew this story very well because of my figure skating background and just being around during that time when that story broke. We all knew it but we only knew one side of it and it was so fascinating to look at what she lived through."