Boushie aftermath points to need for justice system reform, says Wilson-Raybould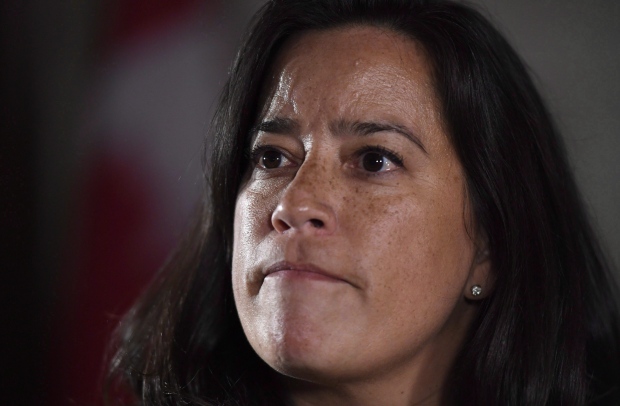 Concerns raised in the aftermath of a not-guilty verdict in Colten Boushie's shooting death highlight the need to reform the justice system, says Justice Minister Jody Wilson-Raybould.
Wilson-Raybould and Public Safety Minister Ralph Goodale met with members of Boushie's family Tuesday morning. The family also met with Prime Minister Justin Trudeau.
"It was very honest, very emotional. We listened to their perspectives, how they're feeling right now," Wilson-Raybould told reporters.
"They reflected broadly on the criminal justice system and how we need to build relationships and work together to make improvements to the criminal justice system."
The Boushie case has dominated talk on Parliament Hill since farmer Gerald Stanley was found not guilty Friday of second-degree murder for his role in the 22-year-old's death. The verdict sparked protests across the country over the weekend.
Reforms underway 
Wilson-Raybould's department has been tasked with reviewing the criminal justice system — including sentencing, trial delays, the overrepresentation of Indigenous people in prisons and so-called 'peremptory challenges'.
Under Canada's Criminal Code, peremptory challenges allow defence lawyers and Crown prosecutors in a second-degree murder case to reject as many as 12 people from a jury without giving any reason.
Critics say the long-standing procedure can lead to discrimination against potential jurors — and can deliver a jury that is biased or lacks understanding of Indigenous cultural and social customs.
Some observers have argued the jury process in Boushie's case was biased because the defence team excluded five potential jurors who appeared to be Indigenous. CBC News has not independently determined the reason for their exclusion.
"Those reforms are coming. The reality of the Boushie family coming here and the elevation of the national consciousness on the challenges and systemic barriers that marginalize people facing the criminal justice system is very welcomed," Wilson-Raybould said.
She said those reforms are coming "soon" but wouldn't offer a timeline.
On Tuesday, NDP Leader Jagmeet Singh said the jury selection process needs to be addressed and he is debating whether his party should be in favour of abolishing peremptory challenges.
"It's a discussion we need to have," he said.
"There is underrepresentation of equity-seeking people on juries. That is something people have noted for a long time. In particular, Indigenous people are very underrepresented in jury selection and juries in general."
Singh said he's used peremptory challenges in his career as a criminal defence lawyer.
Defends tweet
On Friday, Trudeau said he couldn't imagine "the grief and sorrow" the Boushie family feels.
The justice minister also took to Twitter, arguing that "as country we can and must do better. I am committed to working everyday to ensure justice for all Canadians."
A number of Conservative MPs cautioned the Liberal government against tweeting about the verdict.
"We need to let the many steps of an independent judicial process unfold without political interference," Conservative Indigenous affairs critic Cathy McLeod wrote on Twitter.
On Tuesday, Wilson-Raybould defended her tweet.
"What I know even more so now than when I sent out that tweet is that for not just Indigenous Canadians across the country but Canadians who are speaking out on the challenges that we face in the criminal justice system, protesting on the streets," she said. "To have an attorney general who doesn't recognize that or acknowledge it would be deeply concerning."
Boushie was shot and killed after he and four others from the Red Pheasant Cree Nation drove onto Stanley's rural property in August 2016.
Eric Meechance, who was in the car that day, told the court he tried to start an ATV on Stanley's property but denied trying to steal it.
Boushie was shot in the head after an altercation with Stanley, his son and wife.
Stanley testified he never meant to shoot anyone and that the handgun he was holding went off accidentally.
The jury could have found Stanley guilty of second-degree murder or manslaughter, or not guilty, according to Chief Justice Martel Popescul, who oversaw the trial.