10 Looks That Could Explain Selena Gomez's Secret Coach Project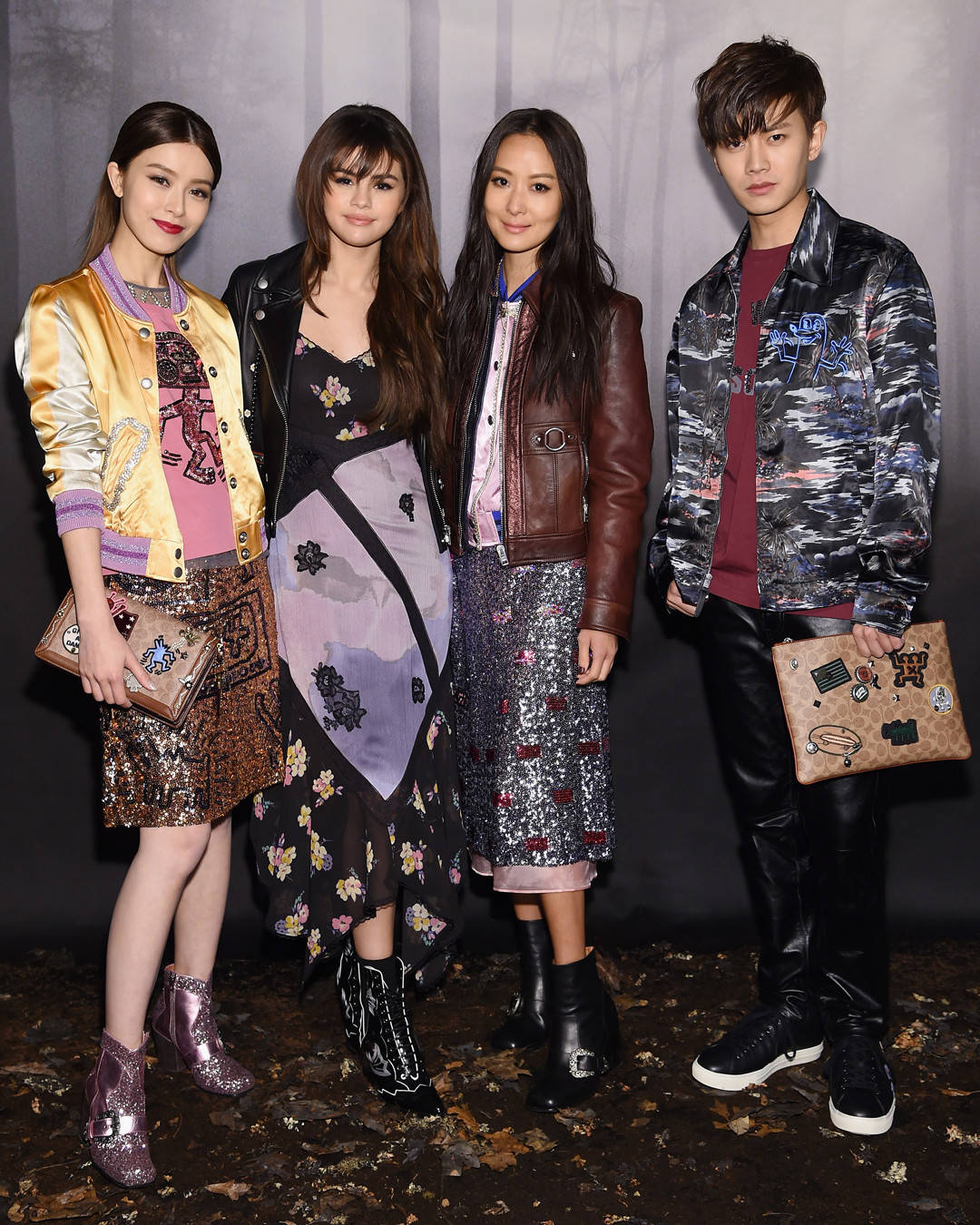 Dimitrios Kambouris/Getty Images for Coach
Selena Gomez is nothing but full of surprises.
Just when we're getting used to the "nirvana blonde," she brings back the brunette hair and bangs. Just when we got her '70s-inspired vintage style down, she starts to channel an edgy, dark romance. Just when we're wondering where she is on social media, she candidly teases out a new project. 
"Just know that the lack of absence of social media is not a lack of my love. I'm working on a bunch of stuff, and I will love on you guys so soon I promise," she said on Instagram Stories Wednesday. "Also, last thing. I might get in some trouble for saying this, but I'm doing some really, really cool stuff with Coach that, uh, that's coming! See, this is why I can't be on social media. I just say everything," she said in another post before walking through the dark forest that was the Coach fall-winter 2018 runway show at New York Fashion Week.
The singer, who just came back from a vacation with Justin Bieber after a two-week treatment program for anxiety and depression, signed a reported $10 million deal with Coach back in December 2016. Ever since, the brand has seen a boost in engagement and 50 percent increase in followers, according to Billboard. Of course, the direction of Coach has dramatically changed as well. Under the leadership of creative director Stuart Vevers, what once used to be the stuff of middle school prep (you remember those monogrammed hobo bags boasting double Cs), now is layered, textured and aspirational—much like Selena. 
It was a pairing made in fashion heaven: As Selena's style has developed, so has the brand's. As the brand finds an edgier, stronger aesthetic, so does the "Bad Liar" singer. To bring this back full circle, to guess what Selena and Coach have in store for us "soon," we'll need to take a look back at the relationship so far and how it's progressed, from sweet varsity jackets to structured handbags to very vintage frocks…to what? Judging by Vevers' latest collection, we're thinking something eerily goth. 
Scoll through—what do you think?
nich503 / Splash News
First Sighting
When Selena was announced as the new face of Coach in December 2016, the brand took to Instagram to post a #fbf. "All revved up and ready to #GoRogue. @SelenaGomez wears the #CoachPreSpring2017 Car Tee and Glovetanned Leather Rogue," said the caption. While it's uncertain if the singer has directly boosted Coach sales, according to several reports, the brand is now more well-known among a younger demographic, thanks to the Instagram queen with 133 million followers. 
Marc Piasecki/GC Images
Street Style
Last February, Selena hit the NYC streets in a sweet ensemble, wearing a Bib Tiered Dress and Shrunken Varsity Jacket from Coach.
Miguel Aguilar, PacificCoastNews
Back to School
While out about about in March 2017, the "Bad Liar" singer proved a basic outfit with a statement jacket is just as cute as the most embellished ensemble. In a white tank and jeans, Selena let her Coach Camo Rose Varsity Jacket do all the talking. To prevent this look from looking too juvenile, she paired the simple look with heels. 
Jackson Lee / Splash News
Bag Lady
On the red carpet or on the streets, Selena reps Coach hard. She was snapped carrying the Selena Grace Bag on multiple occasions. If you had a bag named after yourself, wouldn't you?
Rob Latour/REX/Shutterstock
2017 Met Gala
At this point, it came to no surprise that Selena would wear Coach to the Met Gala. What was surprising, however, was the fact that the dress was so feminine and simple, given the Rei Kawakubo/Comme des Garcons theme, which highlights deconstruction and structural volume. Of course, the choice was later explained by Selena's personal stylist, Kate Young, and the brand's creative director, Stuart Vevers. 
Neilson Barnard/Getty Images
2017 American Music Awards
Here's where "nirvana blonde" was born—and with it, a transition in Selena's style. For the casual music award show, the "Same Old Love" singer elected for a custom Coach moto dress, which was inherently badass even without the newly platinum locks. As Selena got edgier so did the brand (or vice versa), but it was like they were evolving together. 
Darren Gerrish/Getty Images for Coach
Coach In-Store Event
In December 2017, a newly blonde Selena, wearing a sheer dress from the brand's resort 2018 collection, met fans in London's Regent Street Coach store to celebrate the launch of the Selena Grace Bag. This look was actually one of six she wore around the British capital that day, as she was also promoting her new single, "Wolves." Selena's style started to showcase a more mature sensibility, with midi-length hems, vintage details and layered textures.  
Samir Hussein/Samir Hussein /WireImage
The Fashion Awards 2017
The Fashion Awards is like the British version of the CFDA Awards. It's for the fashion elite, by the fashion elite. This past year, there were models draped in both ball gowns and minis, but Selena—accompanied by Coach creative director Stuart Vevers, of course—wore a noticeably vintage-inspired look. While it might not have appealed to a lot of tastes, it was high fashion, and she exuded cool confidence despite the unexpected choice. 
Maciel / Vasquez-Max Lopes / BACKGRID
Girls' Night Out
In February 2018, the singer was spotted leaving a trendy LA restaurant wearing a beautiful satin Reformation Olivine Dress ($278), but instead of a fur stole (which would have totally induced old Hollywood vibes), Selena modernized the look with a Coach spring 2018 fur varsity jacket—the look was seemingly vintage with a modern twist. 
Dimitrios Kambouris/Getty Images for Coach
Coach Fall 2018 Runway Show
Back to brunette, with long extensions and bangs, Selena wore a floral patchwork Coach dress to the brand's fashion week show, which exuded dark romance. The runway featured goth-inspired details, urban practicality and a juxtaposition between sweet femininity and textured edge. It's a direction that the brand has slowly been moving toward since signing on Selena over a year ago, and one that will surely influence the singer's wardrobe to come. 
Which look was your favorite?