Edmonton fans join Oilers in Las Vegas for McDavid's 21st birthday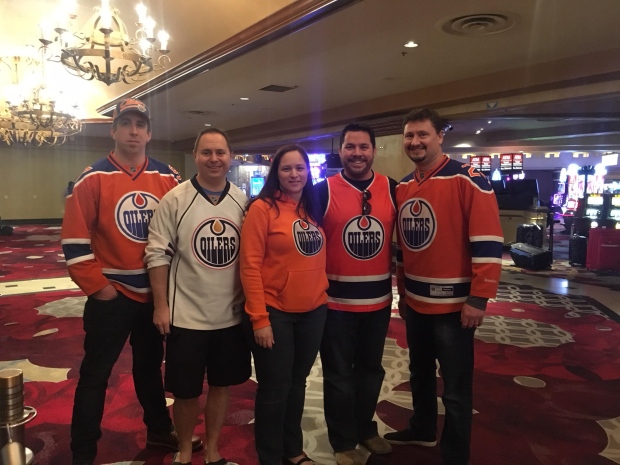 Oilers fans heading to Las Vegas for Saturday's game against the Vegas Golden Knights will help Connor McDavid mark his 21st birthday — hopefully with a win against one of the NHL's most formidable teams.
In their first year in the league, the feisty Golden Knights are sitting atop the Pacific Division with a 29-10-2 record and a league-leading 18 home wins. The struggling Oilers are in sixth place in the division, at 18-23-3.
The teams will meet Saturday night at the 17,500-seat T-Mobile Arena in the Oilers' first visit to the desert oasis.
In their first contest in November, the Oilers blew out the Golden Knights in Edmonton.
While the odds may be against the Oilers this year, McDavid has had a little luck when it comes to the schedule. His birthday also marks the Oilers' final game before a bye week, with no games on tap until Jan. 20.
Being 21 in Las Vegas means there are a lot more entertainment options for the young superstar, should he choose to indulge himself.
Escape from the cold
Other Oilers fans are looking forward to the opportunity to get away from the cold, catch a game and have a little fun.
"It's a quick flight from Edmonton, it's warm, it's Vegas so who doesn't like coming to Vegas?" said Neil Korotash, a St. Albert high school teacher.
Korotash is part of a group of 23 friends in Vegas for the game, just one of several contingents he saw at the airport.
"Talked to another group that had 17, talked to another group that had 15 coming down so there's quite a few groups coming down," said Korotash, who expects a strong showing of Oilers fans at the game.
"I'm sure there's going to be lots, I'm looking forward to seeing how many Oilers fans are going to be in the building."
For 47-year-old Edmontonian Rob Sasseville, who is already in Vegas, it's a family affair.
"I'm with my wife and I've got my parents coming and my sister and brother in law arriving later today," said Sasseville, who has been looking forward to the trip for some time.
"We planned this as soon as the NHL schedule came out and we found out that the Oilers were playing here on the 13th."
When Sasseville arrived on Thursday he quickly realized others had the same idea.
"When we checked into the hotel there were people with Oilers hats," he said. "When we boarded the flight, even on Thursday morning, probably about a group of 10 or 12 people that we didn't even know heading off to Vegas as well for the hockey game this weekend."
Despite the other entertainment options, the game is the biggest draw for Sasseville.
"We've never experienced a hockey game in Vegas before," he said. "There's always the shows and the acts and the magicians but to actually come and watch a National Hockey League game on a big-scale is pretty exciting, it's pretty cool."
Top team vs. bottom team
Sasseville is hoping the Oilers find a little magic on the ice but admits it's a gamble.
"The Vegas odds in the gaming room below is the Knights are definitely the favourite to win, but it doesn't matter — I think the Oilers will come out strong," said Sasseville. "It will be their first time here and they'll be pumped and excited to get it going. I expect a win."
Korotash is trying to find a little humour in the Oilers' dismal season.
"I was joking to people when we booked this trip in the summer we were kind of expecting to see a top team against a bottom team but just didn't think it would be this way around," said Korotash. "I guess we're still seeing that, just backwards."