Take a sneak peek inside the new Royal Alberta Museum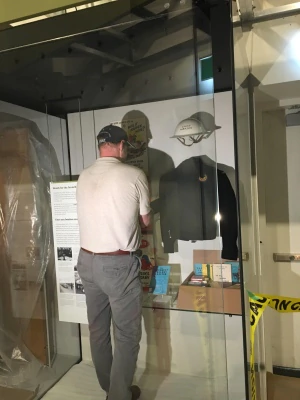 Creating custom mounts for nearly 5,000 artifacts at the new Royal Alberta Museum sounds like tedious work, but it's a dream project for a man who has worked in museums across the U.S.
Multiform Studios, an artifact-mounting business based out of Michigan, is responsible for creating custom mounts for close to 52,000 items in the new downtown Edmonton museum.
"It probably has a wider scope than any other project I've ever worked on when you look at the ethnographics; you look at the timeline; you look at the variety of types of artifacts," said James Leacock, owner of Multiform Studios.
"It's pretty awesome"
He and others were working in a backroom Wednesday where canoes, historic clothing, and other pieces sat draped under cloth.
"What's really special about this project is that it's not often you get an opportunity to work on 2,200 years of history in a community," Leacock said.
The museum's head of conservation helped to set up a display called "Ready For The Atom Bomb?" which focuses on life after the Second World War.
"I think most people don't see the huge amount of work that goes into it and that's intentional," said Carmen Li, head of conservation at the Royal Alberta Museum.
"We want it to look effortless and to just enjoy the experience. This is all about making sure the visitor doesn't see this hard work."
Chris Robinson, the museum's executive director, wouldn't commit to an opening date Wednesday, but in June he told CBC News the new museum was expected to open in early 2018.