Calgary Flames' Matthew Tkachuk uses every method to get under opponents' skin, even his phone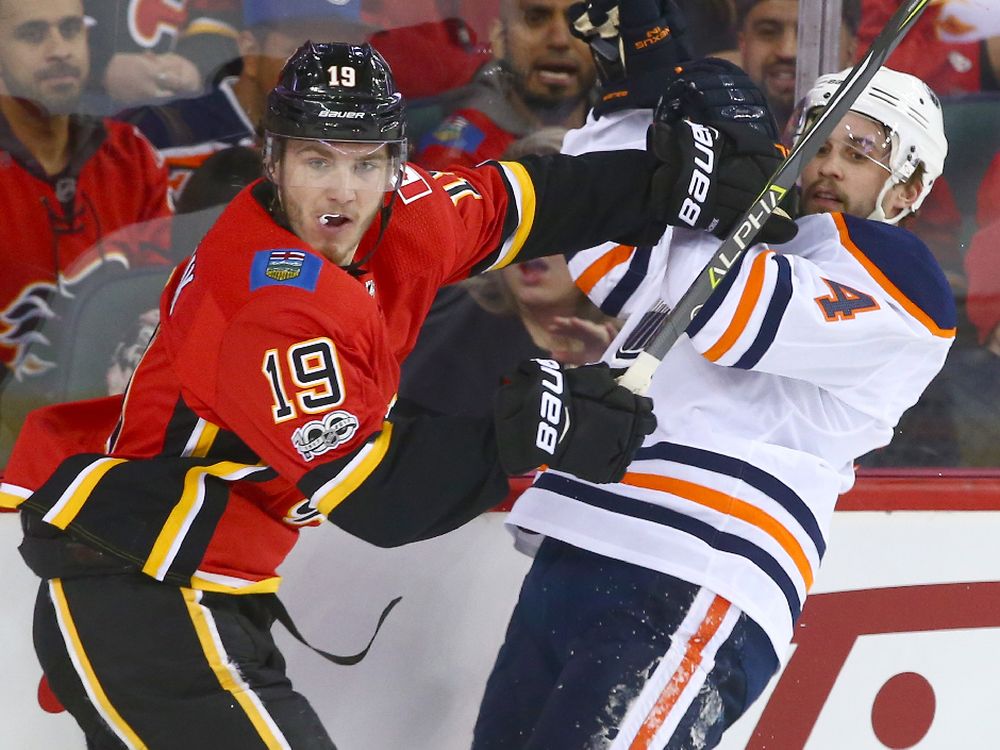 TORONTO — The pest likes to text.
Matthew Tkachuk, the shift-disturbing winger who earned a one-game suspension last month for inciting a line brawl against the Detroit Red Wings, uses slashes, spears and well-timed hits to get under the skin of opponents. But he tends to do his biggest damage with his smart phone.
Forget on-ice chirps. Those are so 1980. Instead, Tkachuk has been known for sending video clips of his past goals and hits to opponents as a way of reminding them what they might be in for.
Last week, the Calgary Flames forward texted a video to Zach Hyman of the time when Tkachuk caught the Maple Leafs forward with a hit several years ago during a college game. Another time, Toronto's Auston Matthews was getting ready for a game when a text appeared of Tkachuk scoring a highlight-reel goal.
It was more cheeky than pesky.
"He's a pest, but he also brings a lot of skill to his game," Matthews said. "He complements that a lot with being a guy who likes to get under your skin as well."
"If you play with him, you know how he is," Toronto's Mitch Marner said of Tkachuk, his former junior linemate with the London Knights. "He jokes around a lot and likes to have a lot of fun. But on the ice he's a guy not a lot of people like."
In his second NHL season, Tkachuk is quickly moving up on NHL opponents' most wanted lists. He received a two-game suspension last year for elbowing the Kings' Drew Doughty and already has 29 penalty minutes in 26 games this season. He has also drawn a league-high 17 penalties, been the target of two incidents that resulted in suspensions, and scored four goals and 17 points — including five points on the power play — so he's making opponents pay in more ways than one.
"He is a pest. And he plays better that way," Flames head coach Glen Gulutzan said. "But this is a highly intelligent player. He's in the guts of the game. Since he's been in this league, he's been playing against the top players on a shutdown line and they've produced offensively."
The son of former NHLer Keith Tkachuk, the last player to top 50 goals and 200 penalty minutes in the same season back in 1996-97, Matthew Tkachuk doesn't exactly consider himself a pest. He's not out to hurt anybody or be a repeat offender. He understands what he does on the ice can rile up opponents. But in his mind, he's just playing the game the right way, which means going hard to the net, never taking a shift off and playing whistle-to-whistle.
"I was taught at a young age that you have to play hard every shift," he said. "You have to give your best effort every single shift. Since I've been young, I've always liked scoring goals and producing offence. Just trying to mix trying to be an offensive threat every time you're on the ice with playing a hard game."
The dual ability to score and also get under an opponents' skin is ultimately what makes Tkachuk, the sixth overall pick in 2016, so valuable. On its own, either skill is an asset in a league where NHL heavyweight enforcers are all but extinct. But combine the two and you have a player that could be the next Brad Marchand or Corey Perry — equally dangerous with or without the puck.
"Marchy's world class," Leafs head coach Mike Babcock said of the Bruins winger. "He'd be a real good player, whether he did that or not. But then you add that dimension and there's no question about it he's been a real pain in the butt and it makes it harder for you to play against because you know that you've got to keep your head up. Tkachuk's biggest asset is his ability to get to the net. He's a huge talent, heavy body, makes great plays and is a determined guy."
With fewer fights in the league these days, it's a wonder why more skilled players do not add a physical dimension to their games. Instead, the opposite appears to be happening. Playing the role of the rat is not exactly a dying art, but it is in short supply. And there is a reason for it, said Leo Komarov.
"It's a lot of pressure when you have to be like that every game," said the Leafs' resident pest, who has an appreciation for what Tkachuk has been doing as a teenager in the league. "It's not a lot of guys that can play hard like that. In that way, (Tkachuk's) pretty impressive. But I don't think you can play a lot like that either, you're going to get hurt and it's tough on the body also."
As for his career goals, Tkachuk doesn't want to spend his time on the sidelines serving suspensions. He has offensive skill, something he showed in junior with 107 points in 57 games with the Knights, and he plans on developing it. But don't expect to go soft in the process.
"Since I've been younger, I've always liked watching big offensive players who play a powerful game who also play hard," Tkachuk said. "Corey Perry is still one of the best at it. I played against Wayne Simmonds the other night and he's probably one of the best at being around the net, like myself."
He then added: "Sometimes tempers get hard I guess."
• Email: mtraikos@postmedia.com | Twitter: @Michael_Traikos