Serving the community: U of A introduces PhD program in Indigenous studies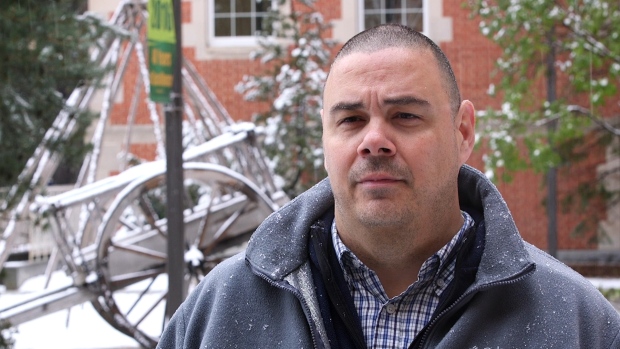 Denise Lambert wasn't motivated or supported in continuing her education past high school. Growing up a member of Paul First Nation, she struggled with addiction and other issues.
"There were challenges. There were things about, you know, is this life worth living, or the multiple ways I could escape here," Lambert said.
It wasn't until she met an older woman — her adoptive grandmother, or her nohkô — who helped her find strength in her life.
Now, as she begins working on her PhD in Indigenous Studies at the University of Alberta, the mother of five and grandmother of two, hopes she can be the same inspiration to young women in her community as her nohkô was to her.
"If they need to have somewhere to go or someone to reach out to, I'm one of those people," she said.
Lambert is one of five students taking the Indigenous Studies PhD at the University of Alberta, which was offered for the first time this fall.
Pushing the envelope
Chris Andersen, the dean of the Faculty of Native Studies at the U of A, said the Indigenous studies discipline itself is growing — extending its reach to students in other programs. He said this bolsters the PhD program.
"We're trying to build up an insider critical mass," Andersen told CBC's Radio Active.
The new program is three years instead of four, meaning it's more condensed than similar programs in Canada.
"We tend to be very community-engaged and very Indigenous-centred," Andersen said. "We kind of push the envelope on what those different things mean and what they look like concretely."
Students in the program pitch either original research or an attempt to build on existing research.  
One student, who is from a Métis community whose rights are not recognized by Canada, is looking at which concepts the courts use to think about community, Andersen said.
Another student is looking at the migration of Métis people from Manitoba to the west coast after the Second World War.
"I'm in awe of the different projects and students that we have in our cohort," Andersen said.
Lambert's thesis is more global.
"I'd like to look at some of the connections between different Indigenous peoples in the world," she said. "I'm very connected to Cree communities here and would like to share the stories and ways of doing with people in the Maori community in New Zealand, close to the Whanganui River."
Lambert has been to New Zealand five times — with one of her visits shaping the path she's on today.
Coming home
On that trip a woman involved in Indigenous health studies took her for a walk. Lambert was feeling consumed with finishing her masters of science degree in health policy at the U of A.
"She said, 'Well, we really need more Indigenous people to be taking the lead in areas of research that affect our community and individual well-being,' " Andersen said. "She left me with that thought."
After looking at Indigenous studies programs in other provinces, she was surprised to discover a PhD program in her backyard.
"I was just absolutely surprised that Native Studies had this," she said. Lambert applied right away.
"As an Indigenous person, I've been in other faculties," she said. "It felt very appropriate for me to come home."
Serving the community
Lambert hopes her work can build on other research while also helping her home community. She's hoping her research into Indigenous traditions can help supplement research and knowledge in a university setting. 
As Andersen sees it, that change is already happening.
'If [girls in my community] need to have somewhere to go or someone to reach out to, I'm one of those people.' – Denise Lambert, PhD student
"The Truth and Reconciliation Commission has had an enormous impact on the ways in which universities think about Indigenous knowledge and Indigenous studies," he said.
"I think there's still a lot of work to be done around recognizing community knowledge in relationship to knowledge that gets produced in the academy, but I think it's a much better place now than it was two years ago."
That's where Lambert sees herself fitting into Indigenous academia. "The thing that's really critical for me is to be in relationship with community," she said.
"[I want] to look at what is going to actually serve the community to improve whatever particular situation they're going through."
Listen to Radio Active with host Portia Clark, weekday afternoons on CBC Radio One, 93.9 FM/740 AM in Edmonton. Follow the show on Twitter: @CBCRadioActive.