Metro Line LRT riders worry about safety after latest incidents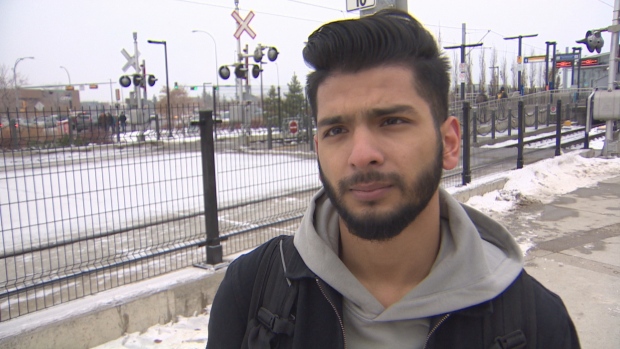 When southbound and northbound Metro Line LRT trains ended up on the same track this weekend, it wasn't the first time, a NAIT student said Monday.
Chemical engineering student Hassan Memon said he experienced a close call on the Metro Line in September.
"I was on the train and both trains are kind of just heading at each other," said Memon, who rides the LRT five days a week.
"I saw the driver had to just slam their brakes down.
"I'm going to die, that's what was going through my head."
On Saturday, a northbound train ended up on the same track as one that was ready to head southbound near the NAIT LRT station.
In the wake of that incident, Coun. Mike Nickel is questioning the line's safety and vowing to ask for an investigation to determine if the Metro Line poses a risk to public safety.
An investigation into Saturday's incident is underway, Eddie Robar, the city's transit service branch manager, said Sunday.
While the city worked with software provider Thales to figure out what went wrong with the track switcher, it caused another software system malfunction Saturday, Robar said. That one caused a service delay of six to seven minutes.
On Oct. 30, the signalling system failed and the crossing gate lifted as a train was about to cross the intersection of Princess Elizabeth Avenue near the main campus of NAIT, the Northern Alberta Institute of Technology. CBC News has also confirmed an issue in July.
Monday morning and afternoon, passengers poured out of trains when they arrived at the NAIT platform for classes.
Adi Mangru had just heard about the weekend signalling issue as he was about to take the Metro line home.
"It's just really irresponsible," Mangru said. "They should have been paying a lot better attention to something like that. It could have been really dangerous, too. Glad no one got hurt."
Other riders who spoke with CBC News have faith that the recent signalling issues will be corrected.
"I trust it. I trust that they'll [the city] do what's best," Bayess Afzali said.
"It doesn't happen every day," Meghan Forrester said. "Never happened to me. Probably won't happen to me. Unfortunate, but I don't think it will be a habit."
Memon, meanwhile, said he will continue to use the Metro Line to get to his NAIT classes, but questions its overall safety.
"If you're just slowing it down, I don't have any reliability that I'm safe sitting down in my seat."