Councillors, residents question value of new playground speed zones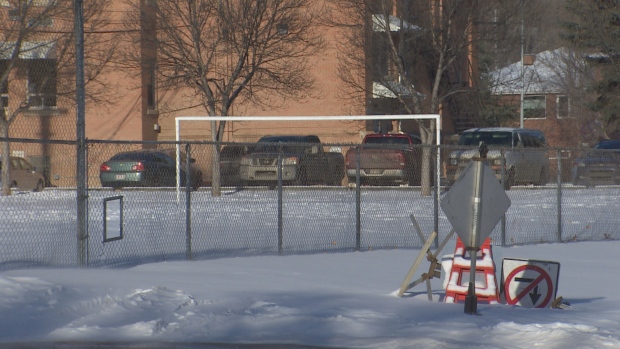 Edmonton city councillors and residents are questioning whether photo radar-enforced speed zones are appropriate next to sports fields where children rarely play.
Last week, Daniel Onischuk noticed new 30 km/h speed limit signs along 101st Street near 96th Avenue in the  Rossdale neighbourhood. The signs say the speed limit is photo radar-enforced.
Along one side of the street are homes, while on the other there's a fenced-in soccer field.
Onischuk questions whether the playground zone is necessary because, he said, the field is usually empty.
"It just seemed wrong because there are no kids using these playgrounds."
The city has so far installed signs at 168 of its 178 new standalone playground speed zones. The city is now adding the same signs at existing school zones for a total of 425 playground zones throughout the city by the end of the year.
The city initiative uses a provincial definition of playground zones which states playgrounds are recreational facilities used primarily by children. This includes outdoor playgrounds, sports fields, ball diamonds and indoor or enclosed facilities such as skating rinks and swimming pools.
Since the playground zone signs went up in Ward 11, Coun. Mike Nickel said he's received 27 email complaints and others over the phone.
He said some of the playground zones cause confusion among drivers.
"No one is arguing that safety isn't paramount here, but what a lot of people are arguing is that in some places they make sense and in some places they don't make sense at all," Nickel said.
At a Nov. 2 council meeting, Ward 10 Coun. Michael Walters motioned for council to explore a narrower definition of playgrounds that doesn't include fields and green spaces where children are rarely present.
"Otherwise it's inconsistent and confusing and unclear and then we tag on photo radar," Walters said.
"I feel that's where we lose the public trust when it come to photo radar, and it's not fair. Community safety and consistency are really important," he added.
"I think it's something that we have to look at and maybe scale back and focus on where we're actually going to keep kids safe."
Ken Karunaratne, a technical specialist with the city's road safety department, said the broad definition of parks is a proactive measure to protect children.
"Those are the people we are targeting. We want to save their lives," he said.
Karunaratne said he expects to hear complaints about the playground zones while they're still new, but he also expects the number of complaints to diminish over time.
"It is a change so sometimes people don't feel that they are necessary, but over time they will realize that this is a good thing to have," he said.