Bands to host charity show after boycotting Edmonton bar over sexual harassment allegations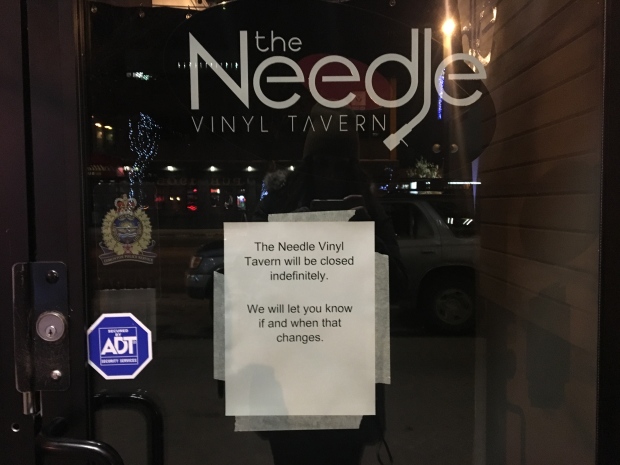 A charity concert for survivors of sexual assault is scheduled for this weekend by bands who boycotted The Needle Vinyl Tavern after a staff member alleged she was groped by one of its owners.
All contributions from the show at The Buckingham on Sunday night will be donated to The Sexual Assault Centre of Edmonton.
The show was organized in part by Ellen Reade of the Brunch Club, one of nearly a dozen acts that cancelled pending performances at The Needle Vinyl Tavern in the midst of ongoing controversy over claims of sexual harassment.
"I realized that I didn't want to support a venue that is not dealing with these things appropriately," Reade said in an interview with CBC Edmonton's Radio Active.
"Anyone can make a well-worded statement of apology. But until I see action, I don't think I'm going to have any interest in attending The Needle or supporting The Needle in any way."
'Change isn't going to happen until people take a stance.'  – Ellen Reade, musician 
Brittany Lyne Rudyck, a former employee of The Needle Vinyl Tavern, came forward on social media this week alleging that one of the owners of the bar groped her in March.
Rudyck quit last week, after submitting an email to bar management alongside other female staff members expressing their concerns over a new hire with a "history of mental and emotional abuse as well as sexual harassment." Her concerns were dismissed, she said. 
Reade said she hopes Rudyck's allegations help make Edmonton's bar industry a safer place for women and that they ensure allegations of workplace abuse are addressed and not ignored. 
"Change isn't going to happen until people take a stance and show how serious they are," she said.
"I don't think any venue is going to act in the way The Needle has in regards to these issues from here on in."
Bar shuts down indefinitely
Since Rudyck made her allegations public, Needle Vinyl management has publicly apologized for their handling of the alleged assault.
In an interview with CBC News on Tuesday, Needle co-owner Rob Campbell said the bar has cut ties with the man who allegedly harassed Rudyck, and said the business was reviewing its human resource policies to ensure staff can report workplace issues in a "safe and respectful environment."
'It's astonishing to me that a venue can get away with that.'  – Gord Tober, Sudden Love
But on Tuesday evening, the bar posted a sign on the door reading: "The Needle Vinyl Tavern will be closed indefinitely. We will let you know if and when that changes."
Shortly before the bar's social media pages were deleted Tuesday evening, a post on The Needle's Facebook page said: "The Needle will be closed until further notice. Due to threats made to multiple staff, we do not feel we can safely operate the venue at the present time."
Before the closure, several musicians and groups, including Brunch Club, The Red Cannons, Cups N Cakes, Sudden Love, Current Swell, and the Taggart and Torrens podcast had cancelled upcoming gigs in the wake of the allegations.
Gord Tober with Sudden Love said the band didn't hesitate over the decision.
"We definitely could not support a venue that does not handle these claims … appropriately," Tober said.
"It's' extremely important that this is dealt with immediately and from what I've read, this has been going on for a long period of time, and it's astonishing to me that a venue can get away with that, especially if it's one of the owners."
'It's really unfortunate'
Tober doubts the business can recover from the storm of controversy caused by the allegations.
As long as the man who allegedly harassed Rudyck has ties to the bar, customers and performers will continue to boycott the venue, and the bar's reputation has been deeply damaged, said Tober.
"It's really unfortunate, especially with the small number of venues that we have," he said.
The closure of one of Edmonton's few mid-size live venues will be a loss to the music community, Tober said. But ensuring the scene is safe place for everyone is what's most important, he added.
"I think it's amazing how quickly everyone jumped on this, came together and is doing what is right to get that situation out of our community and make sure everybody knows that it's not acceptable."