Patton Oswalt Brings His Truth to a Netflix Comedy Special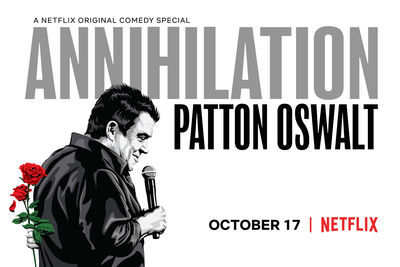 Patton Oswalt has been performing in front of audiences for years, but he's never had a special quite like "Patton Oswalt: Annihilation," debuting on Netflix today, and directed by Bobcat Goldthwait. Filmed at the Athenaeum in Chicago, Oswalt's hour-long stand-up set features the comedian/actor discussing the sudden death of his wife, Michelle McNamara, in April 2016. You can see when he gets to that part of the show just over half an hour into his set. He takes a deep breath, uses the word "widower," and then doesn't look back. However, the genius of "Annihilation" is that Oswalt never allows it to turn into a dirge or a therapy session. It always maintains its wit and energy as a stand-up set, even when he's talking about his daughter's first Mother's Day without her mother. It's a beautiful tonal balancing act for an artist to even attempt an anecdote that both makes you laugh and cry, but Oswalt does it simply by being a talented, natural speaker.
Oswalt doesn't just dive right into the death of his wife. He starts with some commentary on the current President of the United States, of course, as well as his theories on how we got here, which are insightful and hysterical. He also offers sheds some light on the theory that Trump is good for comedy and satire—he's not. It's impossible to do jokes about him because he's done something crazier by the time you get to the punchline. Oswalt's greatest gift is as a storyteller—the way he blends just enough detailed information to paint the picture with his verbal gifts as a joke teller. There's a story about a fight outside the Roxy that's one of his best bits yet. And then he segues into some fantastic crowd work.
Of course, many people will come to "Annihilation" to hear Patton Oswalt talk about that day, and he doesn't hold anything back. He speaks openly and candidly about how losing his wife was difficult, but telling his daughter that her mother was dead was harder. And yet he never lingers too long in a space that makes him uncomfortable, or would do so for the audience. I'm sure as Oswalt was working out this set in clubs, there were nights in which it was just too hard for him to do, but he's found the right balance between honest emotion and humor, often getting both in the same beat. And he ends with a defiantly raunchy routine that at first might seem to be antithetical to the more heart-baring moments of the set, but makes perfect sense when he reveals why he chose it. It's those kind of decisions that make Oswalt one of our best stand-ups, and it's in how he balances humor and heart in ways that make neither feel forced or disingenuous. I think Michelle would be proud of what he reveals and the lessons he imparts, but, more than that, I think it matters to Patton that she'd find "Annihilation" pretty damn funny.