'Darling': Sculpture in memory of Lyle and Marie McCann to be unveiled in St. Albert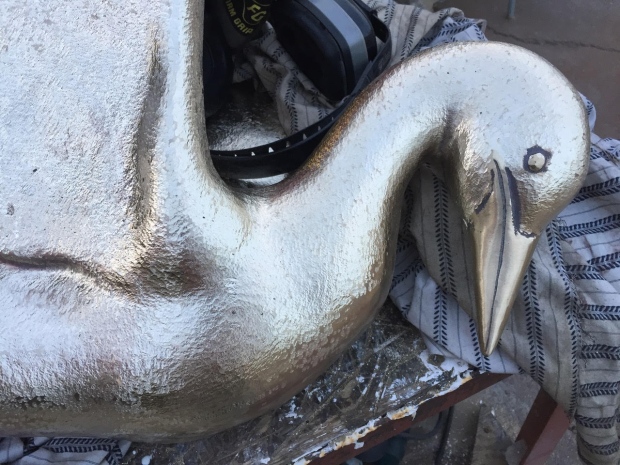 A sculpture created to celebrate the love between Lyle and Marie McCann will be unveiled in St. Albert this weekend.
The bronze and granite monument was commissioned by the McCann family to remember the seniors, who vanished in 2010. The sculpture depicts two loons with wings spread as they appear to dance across water, in a mating ritual known as "rushing." 
The piece is titled Darling, an ode to the term of endearment the couple used often. It's meant to signify the love their had for each other, St. Albert, nature and their family. It will be formally unveiled in Grandin Pond Eco Park on Sunday, Oct. 15 — which would have been Marie's 85th birthday.
Four feet tall and 28 inches in diameter, the sculpture was created by Vancouver-based artists Mary-Ann Liu and Paul Slipper.
"The granite monolith is quite rough on the bottom, transitioning into a smooth polish, a reflective surface on the top," Liu said.
"We've left a lot of the tool marks and rough lines that are from splitting the rock, because that's a part of the esthetic. We also have put in their own handwriting, the members of the McCann family, the words that they thought of when they think of Lyle and Marie McCann."
Sandblasted into the base of the sculpture are words like "mom and dad, missed, loved, caring," Liu said.
The sculpture was made possible by the $60,000 reward the McCann family funded for tips on Lyle and Marie's disappearance. The money was never claimed. In January, Travis Vader was sentenced to life in prison for killing the McCanns. Their bodies were never found.
'What really resonated with me was the call of the loon. That sort of lonely, haunting call.' – Sculptor Mary-Ann Liu
Liu was aware of the case before the McCanns asked her and Slipper to create the sculpture in May, she said.
The family and the artists discussed what Lyle and Marie liked, and Liu's suggestion of the loons "really hit a note with them," she said.
"I thought for the tragedy that this is, what really resonated with me was the call of the loon," she said. "That sort of lonely, haunting call."
The artists worked under a tight deadline of six months to complete the sculpture. Liu's expertise is in sculpting bronze, and Slipper's is in carving stone, so the project fell right into their comfort zone, Liu said.
While the sculpture will be unveiled this weekend, it will be returned to storage until next spring, when the ground will be properly prepared for the monument and it will remain on permanent display.
"We really appreciated meeting some of the McCanns, who came down to the studio as we were sculpting and building the piece," Liu said.
"I think the true legacy from Lyle and Marie McCann is their family."